All About Thread
There are a lot of options when it
comes to embroidery thread. Choosing the right one can take a project from
ordinary to extraordinary. Read on to learn about thread and how to make the best selection every time.
PROPERTIES
For example, if 40 kilome- ters of thread weighs one kilogram,
then the thread is 40-wt. If a kilogram only holds 30 kilometers, then it's
30-wt. The higher the number in
weight, the finer the thread is. Most
professionally digitized designs are in- tended to use 40-wt. two-ply thread. If a different thread is chosen, adjust- ments to the embroidery machine's
settings may be necessary.
A good time to choose a finer thread is when you're stitching dense
Ply refers to the number of strands that twist together to form the final
thread. Higher ply numbers will make a thicker thread — for example,
three-ply thread is thicker than two- ply thread.
Twist is the number of turns per inch the plys are twisted. A small twist number may cause fraying or break- age, while too many twists may cause knotting, looping or snarling. Quality thread has a well-balanced twist.
Denier is the measure of synthetic fibers. It's the opposite of weight, in that weight is the length measure- ment of a fixed weight, and denier is the weight measurement of a fixed length — 9,000 meters, to be exact. Denier is measured in grams per ply. Most embroidery thread is 120d/2, which means that it is two plies of 120-denier fiber twisted
CONSTRUCTION
To make spun thread, cotton or polyester fibers are spun into single yarns and then twisted together. Spun thread usually produces lint. High- quality thread produces less lint than lower quality, and polyester produces less lint than cotton.
Core threads have a poly core with spun cotton or polyester fibers
wrapped around it. They have fuzz on the surface, but the continuous fila- ment core gives the thread strength and durability.
Textured thread is made of polyes- ter or nylon filaments that are mechani- cally textured for fuzz and stretch. This
thread type is voluminous, elastic, soft, full, thermally insulating and moisture- transporting.
Filament threads are made from multiple continuous strands of poly- ester, rayon or nylon twisted together. They have little to no lint and are soft and shiny. Rayon is the weakest fila- ment thread and isn't particularly color- fast. Nylon melts easily, and it becomes brittle and tends to discolor over time. Polyester is soft, strong and colorfast.
Monofilament thread is a single strand of nylon or polyester. The latter has a higher heat tolerance than the former; nylon may melt under the iron.
FINISHES
Finishes are the final touch on the thread production process. Thread with soft finishes are dyed and lubricated.
Mercerized thread is treated in a solution to make the fibers swell, which controls tension, improves dye recep- tion, and adds luster and strength.
Thread that is gassed is passed through a flame to reduce fuzz and increase sheen.
Glazed thread has starches and chemicals added to it, which increases luster, strengthens resistance to abrasion and keeps the plies together. Glazing produces a glossy, hard finish to protect the thread, but the glaze can rub off and gum up the needle, so it is only recom- mended for hand work.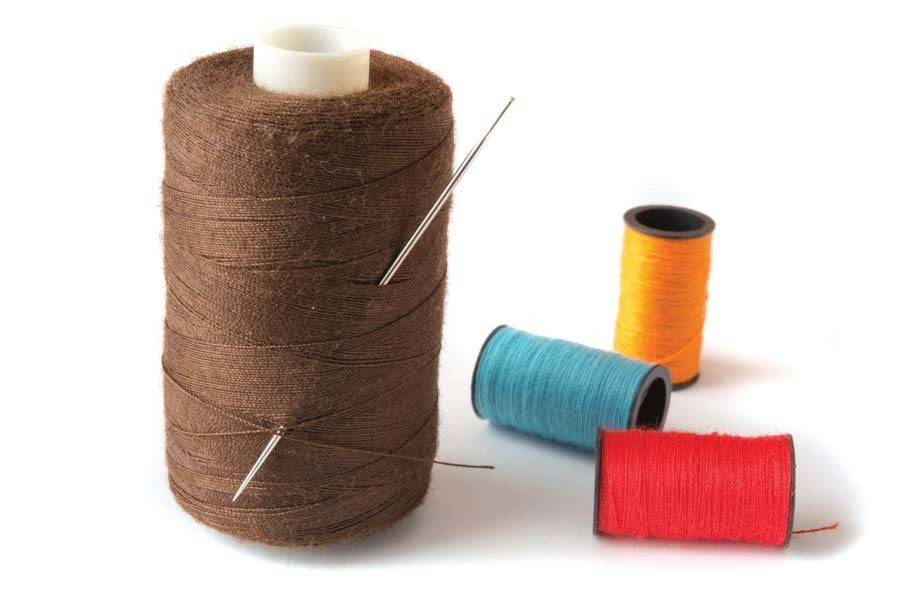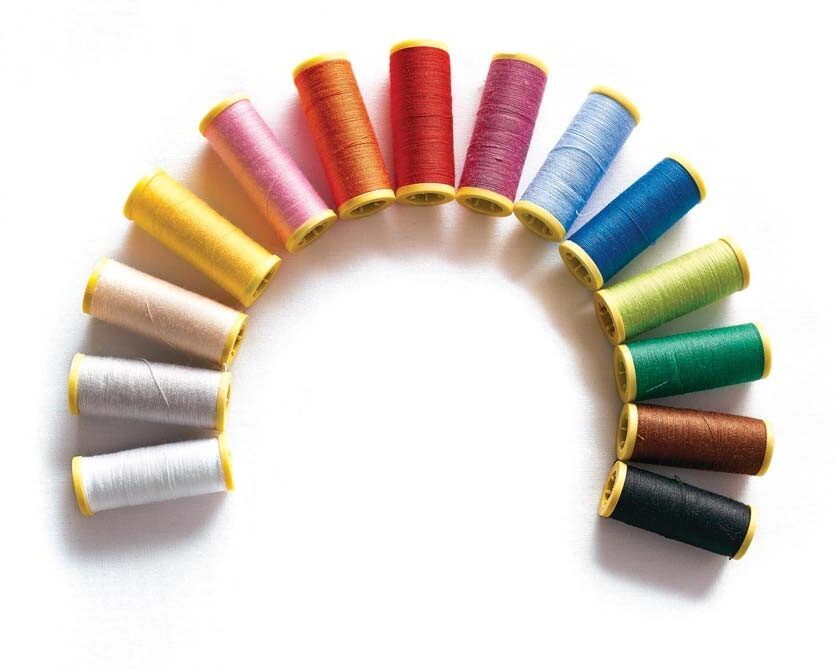 Shrinking Thread
Formulated to shrink on contact with heat, producing a smocked effect.

Works best with running, stippling or zig-zag stitches, simple embroidery, grid, swirls and quilting designs.

Use steam generously when press- ing, but don't touch the iron di- rectly to the thread unless you are prepared for it to shrink about 30% immediately. Stabilizing can help to control the shrinkage.
Use with soft, lightweight fabrics that gather easily for best

Available in 40-

Usually used in the

For maximum puckering, use as both top and bobbin threads and stitch with a 65/9 to 80/12
Glow-in-the-Dark Thread
Glows in the dark or under black light for up to 15 hours.

Picks up light from artificial and natural

Made from polypropylene or polyes- ter and comes in 30-, 35- and 40-wt.

Wash in cool water or dry clean; don't use bleach.

Dry on low; use a press cloth when ironing.
Available in 40-

Use a 80/12 to 100/16 needle that is specifically for metallic thread, or use a titanium or topstitching needle.

Use with designs that have long

Best with soft materials and

Use cut-away stabilizer rather than tear-away.

Machine wash in hot water up to 140ºF; don't use bleach.

Cool iron or dry
Ultraviolet-Activated Thread
Charges with

May need up to 30 minutes to

Thread appears white or pastel when embroidered, but turns to a brighter hue when exposed to
sunlight; out of the sun, it will return to its original color.
Use in combination with regular embroidery thread to produce colorful designs.

Available in 40-

Should be used with a size 12

Machine wash in cool
Don't use bleach or iron directly on the embroidery
Wool Thread
Only available in 12-

Is three times thicker than stan- dard thread.

Has a fuzzy, matte

Creates soft, fluffy textured

Use with medium- to heavyweight fabrics, such as wool, linen and lightweight

Combine with another fiber, such as acrylic, to give a crewel effect.

After stitching, the embroidery can be brushed to give the thread a soft, fluffy texture.

Use a 100 or 110 needle, very low tension and cut-away stabilizer.
Variegated Thread
Available in many colors, ranging from subtle gradations of one color (also called ombre) to bold and bright blocks of several colors.

Two different thread colors can be twisted together for a mottled
Silk Thread
Three-ply, reflective and

Comes in 50-

Limited

Use a 75/11 to 80/12 size
Bonding is the application of a spe- cial resin to continuous filament nylon or polyester thread. It produces a tough, smooth coat that resists abrasion and keeps plies secure.
SPOOL/CONE SIZE
Thread comes on small vertical spools, bigger spools, mini-cones, cones and king cones. Choose small spools if your goal is to collect a variety of colors. Large spools run smoothly and are a good choice for collecting basic colors. Thread unwinds more eas- ily from larger spools.
Larger spools may fit directly on some machines with either a vertical or horizontal spool pin, while others may require a separate, independent thread stand to sit behind or next to the machine. A favorite work-around for this is to place a large spool or cone in a cup or mug by the machine, which keeps it in place while allowing it to move as necessary.
Parallel-wound thread has each wind sitting parallel to the one before it. Each row of thread on the spool is one thread thickness below the previ- ous row. The thread unwinds from the spool one row at a time from top to bottom and back again. It works best
on a vertical spool pin. Using a horizon- tal spool pin pulls the thread over the spool end, which may cause twisting, kinking, fraying and breakage.
Cross-wound thread crosses over itself, winding in a Z-pattern up and down the spool. Place these threads on a horizontal spool pin so the thread pulls over the spool's upper edge.
CARE
Wrap thread in plastic wrap and keep it in a cool, dry place (ideally 68º with 60% humidity). Keep it out of direct sun- light so it won't fade or dry out — dry, brittle thread will break and fray.