.The threads that frustrate us are the fragile threads. Some are familiar to us; some are not. The yarn is what makes them fragile AND they must have special handling. Yarn tensile strength is a result of both fiber properties and processing. Yarns are divided into several categories:
Manmade fibers such as acetate, acrylic, nylon, polyester, microfibers, etc. All invented fibers are made up from liquid polymers. Liquid polymers are simple molecules that have been taken from petroleum and combined into larger molecules. When the polymer is in the liquid state the colorant is added. The liquid polymer is forced through the holes of a nozzle and then solidified. As the fibers harden, they form a continuous filament.
Natural fibers are broken into several categories: Plants: Leaf Fibers such as Yucca, Banana, and Papyrus. Seed Fibers cotton, kapok, and Stem Fiber jute, flax (linen), ramie (rayon) Animal Fibers: sheep (wool), camel, alpaca, Angora goat, Silk caterpillar and spider.
Combination fibers are a combination of the above fibers. These are often embellishment fibers, but can also be well known fiber combinations manufactured into fabrics of polyester-cotton, polyester-linen, cotton-rayon, polyester-rayon, and microfibers.
Metallic fibers that are a combination of aluminum, colorants, plastic, thermoplastics, polymers, cotton, paper, poly-cotton, or polyester and any number of adhesive .
This information was taken from: SINGER SEWING TIPS- TESTING FABRICS on the Internet
It is important to know the content of fabrics and threads to determine care methods for the garment or project you are planning to construct. Linens and cottons tend to wrinkle easily when crushed. Silk feels soapy or gummy when touched.
The burn test is a way of distinguishing between natural and synthetic fibers.
All cotton, linen and rayon are cellulose, and tend to burn similarly.
Wool and silk fibers are protein, they burn in the same way.
Some fabrics may be treated with sizing, dyes, and finishes that alter the flammability of fibers.
Separate crosswise and lengthwise yarns of a small woven scrap, or unravel a knit scrap, or if you are testing a complex embellishment thread take it apart and test each thread separately. Differences in the luster, twist, and color of the fibers indicate that the fabric or fibers may be a blend. Blends will burn like the predominate fiber in the fabric or thread, but they cannot be identified by the burn test.
To conduct the burn test, roll the yarn into a ball and hold it with tweezers of tongs as you burn it in a fireproof container.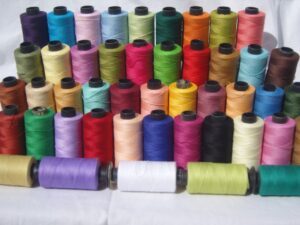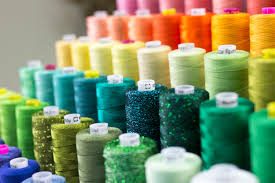 Tests to determine fiber contents:
Cotton, linen, and rayon. Fibers burn vigorously, with an afterglow. They burn with the odor of burning paper and leave a soft, gray ash.
Wool and silk fibers burn slowly and char, curling away from the flame. They burn with the odor of burning hair or feathers and leave a crushable ash.
Polyester, nylon, and other synthetic fibers burn and melt only while in the flame, or shortly after being removed. They burn with a chemical odor and leave a hard bead.
Acetate and acrylic fibers burn and melt while in the flame and after being removed. They leave a hard bead. Test for acetate by placing fabric scrap in acetone nail polish remover; acetate will dissolve.
How to Read a Spool of Thread:
There is a wealth of information contained on the end of a spool. This is important to the thread selection you make for each project. Please note that much of this information comes from BACK TO BASICS, JR. by Donna Hoeflinger.
On the spool end the following information is contained: color number, thread weight, number of strands or plies that are twisted together, fiber content, and hopefully the country of origin.
THREAD WEIGHT: The higher the first number in the combination, the finer the thread. Threads are available in weights from 30 weight to 60 weight. There are also threads available in 10 and 20 weights, but those are generally not used for home sewing. If the spool cap reads 60/2 that means that the thread is a 60 weight (a very fine thread), the second number to the right of the slash indicates the number of plies that have been twisted together to form the thread. In this formula of 60/2, 2 plies are wound together to form the thread. An 80/2 will be a finer thread than 60/2 weight. When you are making a thread selection, you must think of the project you are purchasing the thread for. If the fabric is a lightweight fabric, then a lightweight thread is appropriate. Cotton threads use the English numbering system denoted by the symbol Ne. Synthetic threads use the metrical system which is abbreviated by Nm. Certain synthetic threads come with metrical numbering on them, i.e., Nm 100. This tells us that 100 meters of thread weighs one gram. When you have this system you must do a little math to calculate the thread weight you are familiar with. All numbers can be converted with the aid of a conversion factor. Using the factor 1.695, the number can be converted from metrical (Nm) to English (Ne). Example: 100 B 1.695 = 58.99 or a 60 wt. Thread.
CHOOSING EMBROIDERY THREAD: Embroidery thread is available in sizes ranging from 30wt. to 60wt. You should choose the thread weight according to the size of the design . If you will be doing a flower that has fine detail within the design, but the flower is large and will need lots of fill, choose a heavier thread i.e. 30 wt. for the fill, then a smaller weight i.e.40, 50, or 60wt. for detail. Think of your thread as a paintbrush. For the large
TYPES OF EMBROIDERY THREADS:
Rayon is very shiny, available in more colors than you can imagine and is readily available. There are many good brands of Rayon thread available in the American market. If your choice is Rayon thread purchase a brand that you know such as Sulky, Madeira, Gutermann, YLI, etc. There are some drawbacks to rayon threads and you should be aware of them before you purchase thread for a project. When laundered rayon thread can shrink which will cause your embroidery to pucker. Some brands of rayon thread are more colorfast, however you should check for colorfastness if you plan to wash the garment or project rather than dry clean. Rayon thread is not usually colorfast which can cause fading or a color bleed into your fabric.
THIRD WORLD RAYON THREADS INVADE THE AMERICAN MARKET PLACE
Within the last two years the American market place is being bombarded with rayon thread from third world countries, primarily India, China, and Mexico. There are problems with this thread so be aware. The excitement of low cost fades when the problems of sewing begin. The reported problems have been uncontrollable thread breakage, thread dye bleeding into the fabric, and rapid thread deterioration. These threads are being manufactured with machinery that has been cast off by thread manufacturers in industrialized nations. In third world countries there are no environmental standards that must be adhered to. The consequences of no environmental standards in manufacturing are multifaceted. Toxic dying methods resulting in threads containing arsenic and other potentially hazardous chemicals. Threads with high acid content causes rapid thread deterioration and unstable colors.
OTHER EMBROIDERY THREAD OPTIONS:
COTTON: Cotton thread is available in weights from 30 to 60, and is usually a long staple thread with a high luster finish. It is most appropriate for embroidery on heirloom sewing, quilt embroidery, religious garments and altar adornments. There are several brands available including Madeira's Tanne, and Mettler. These threads area available in many colors, from the palest for heirloom and ecumenical embroidery to the brightest and most intense hues.
POLYESTER: The polyester that you are most familiar with is serger thread. It is a fuzzy fiber made from short pieces of polyester. This is a thread that would NEVER be considered for use on your sewing machine. The new Polyester thread, in its embroidery form, is one of the most durable embroidery thread alternatives on the market. The colors are fast. The fibers are long stapled, with a silk-like finish. The best part is that they will not shrink or stretch and they are totally colorfast making these threads highly desirable for embroidery on garments that will be laundered frequently or used heavily i.e. children's clothing, sweatshirts, and T-shirts.
METALLICS: These threads are the subjects of much discussion among frustrated embellishment enthusiasts. They are available in two forms at this time.
SLIVER, STREAM LAME AND OTHER METAL/PLASTIC THREAD COMBINATIONS: These threads are manufactured from aluminum rolled to 12 microns in thickness, colored, and then bonded by heat between 2 sheets of thermoplastic. It is then cut into thin strips with a laser and wound. The plastic which bonds the metal is very elastic; however when it is used in an area with low humidity it becomes brittle, making it nearly impossible to sew. As with all metallic threads it is subject to static cling. When sewing, it must be removed from the spool by unwinding, otherwise it is completely impossible to sew. It must be sewn with a metallic needle, as should all metallic threads. Because of the flat reflective surface it provides an intensely shiny and colorful embellishment medium.
METALLIC THREAD: Is made from aluminum rolled to 12 microns in thickness, colored, laser cut into small strips and wound around a core of cotton, poly-cotton, polyester, or paper. It is sometimes held in place with rice flour adhesive, and bonded with heat. This thread is reminiscent of metallic threads used for the last twelve centuries. It is much easier to sew than the metallic mentioned above. It should always be sewn with a metallic needle, and the thread must be unwound as it is delivered to the machine.
The size of the embroidery pattern should determine the thread weight you choose.
Thread weights are very important to understand when you are doing computerized embroidery! Most of the patterns are designed for 40-weight thread. This is the size thread that is most widely available in rayon, polyester, and cotton. The problem is when you have the option of sizing your embroidery. If your machine allows you to change the size of your embroidery to a smaller or larger size and does NOT make the appropriate stitch count adjustment, you will have to change the size of your thread accordingly. It is very important to test your pattern with the thread you plan to use before you begin on the final project. If you reduce the size of the pattern and use a 40-weight thread, your embroidery may loose definition. If you increase the size, and use the 40-weight thread, you may not have adequate coverage.
OLD THREAD: Thread does get old. When your thread has been in your sewing room for more years than you can remember, its time to rethink its uses. Thread ages, just as we do. It becomes brittle and looses its elasticity and strength. If you live in a cold climate, your home is dry, your thread has a much shorter life expectancy. Lack of humidity causes thread to age rapidly. There is not much you can do to solve this problem after it has happened. Rethink its uses, the old and weakened thread fibers will not hold a project together as well as new thread. If you can get it to sew easily, then the project will stay together. Cotton, polyester, and poly-cotton threads last much longer than decorative threads. Rayon thread has a life expectancy of about a year, unless it is kept in a cool dark place or placed in a Ziploc plastic bag in the freezer. This will increase the life expectancy about 5 times. Be sure to bring the thread to room temperature before sewing. This is also a good way to keep metallic threads