Janome: a brand of Japanese sewing machines

Janome is a strong player in the sewing machine market. The brand, which will celebrate its hundredth birthday in 2021, was born in Japan before being bought by Americans. True to its Japanese origins, the Janome brand relies on technology. Its sewing machines are exported all over the world, and take an increasingly important place among retailers in France. Janome stands out as the first manufacturer of sewing machines in the world. A strong argument put forward by this brand to stand out from its competitors is that the mechanism of Janome sewing machines is guaranteed for 5 years.
The different ranges and prices of Janome sewing machines
Three types of sewing machines are offered by Janome:
mechanical sewing machines, for a budget between €249 and €615,
electronic sewing machines, for a price ranging from 499 € and 3999 €,
professional sewing machines, between €1399 and €3999.
For beginners, Janome recommends sewing machines between $249 and $799, depending on whether the seamstress prefers a mechanical or electronic machine, for occasional or regular work.
To go further, Janome machines suitable for experienced and/or professional seamstresses cost between €1049 and €3999. These sewing machines are also recommended for those who love patchwork.
TOP 5 Best Janome Sewing Machine Models
As the world's leading manufacturer of sewing machines, Janome offers many references. In order to find her ideal sewing machine at Janome, the seamstress must take into account the characteristics of the different models. To help with this choice, we have tested and compared the models to deliver our top 5 Janome sewing machines
Janome 8077: our favorite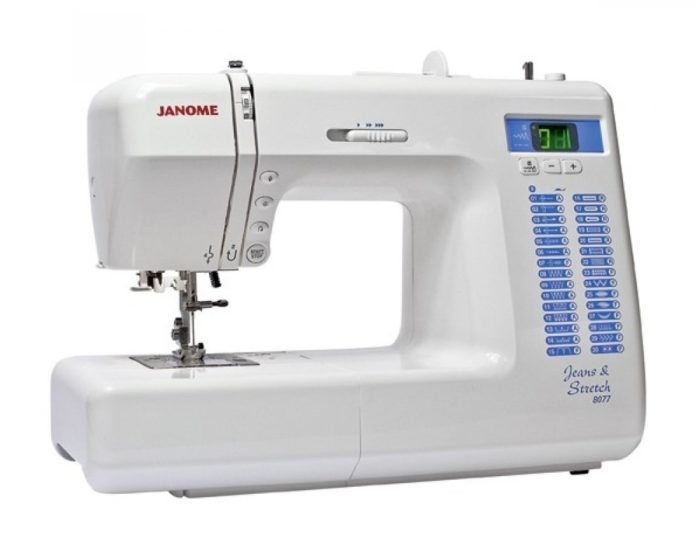 Of all the Janome sewing machines we tested, it was the Janome 8077 that most favorably caught our attention and to which we can award the title of favorite sewing machine at Janome. Displayed at the maximum recommended price of €599, this Janome electronic sewing machine offers excellent value for money and has the merit of being easily accessible.
Its advantages
The Janome 8077 Jeans & Stretch sewing machine is remarkable for its ability to sew a wide variety of materials that most sewing machines have difficulty working with. This is particularly the case with denim or elastane, which are essential textiles in terms of clothing. Thanks to 7 feed dogs, where its competitors only have 6, and a powerful motor that delivers up to 820 stitches per minute, the fabric is perfectly held and progresses smoothly for neat and precise sewing. With 30 different stitches, these are very personalized projects that the seamstress can indulge in. Many features simplify the work of the seamstress: integrated thread cutter, sewing with or without rheostat, on-off function, stitch width and length adjustment, sewing speed modulation, LCD screen… The many feet presser bar and other accessories supplied with the Janome 8077 allow the seamstress to have functional and complete equipment at a lower cost. To go further in detail, we invite you to read our test and detailed review of the Janome 8077 Jeans & Stretch.
Its weak points
Janome delivers a notice written in French with its model 8077 Jeans & Stretch. However, this is not very detailed. This can be embarrassing for beginner seamstresses and for those new to the brand.
Janome Melody 41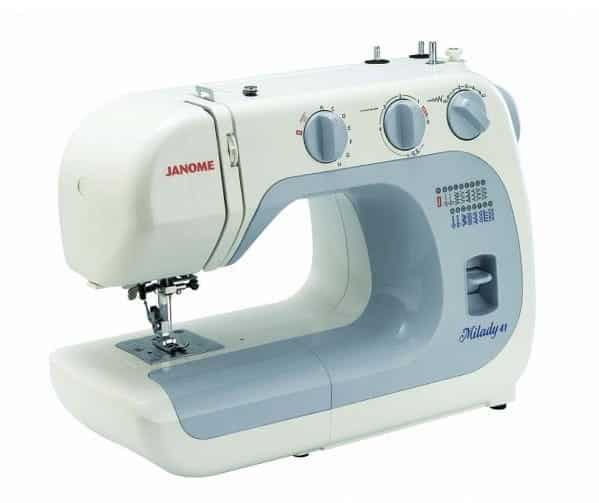 The Janome Melody 41 is a very aesthetic, two-tone sewing machine, which is proudly displayed in its sewing workshop. It plays on contrasts: beneath its attractive curves hides a very robust sewing machine, with a cast aluminum structure and a powerful motor. Solid and silent, it nevertheless allows you to sew with finesse and precision. To find out more, we invite you to read our detailed opinion following the Janome Melody 41 test.
His advantages
A special function is fitted to the Janome Melody 41 sewing machine to enable the sewing of extra-fine fabrics and delicate fabrics. Thicker fabrics can also be worked thanks to the adjustable presser foot height and the feed dogs which hold the fabric securely as it progresses. With more than 40 stitches on offer, the choice adapts to the nature of the work, for strong and durable seams. With a maximum recommended budget of less than €300, this Janome mechanical sewing machine has a price accessible to as many people as possible. The Janome Melody 41 is silent, which is very appreciable for the seamstress and those around her. Mechanical sewing machine, it is easy to adjust.
Its weak points
The needle of the Janome Melody 41 sewing machine is powerful. It is not possible to control it other than with the rheostat. The seamstress must therefore learn to control its sensitivity. This sewing machine is rather heavy, which makes it difficult to transport, although a built-in handle is provided for this purpose.
Janome Skyline S5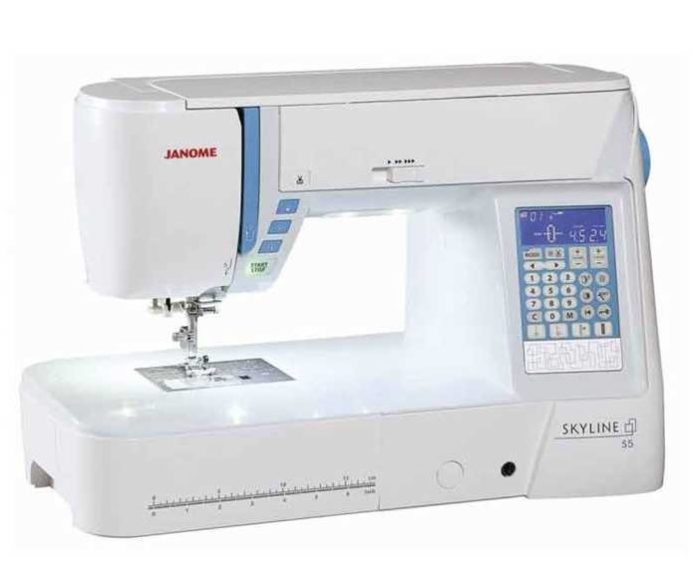 Janome works a lot on sewing machine innovation. The Janome Skyline S5 is a concentrate of the best features offered to a seamstress. Its knee pad is particularly talked about in the sewing sector. A little gem of technology, the Skyline S5 is a high-end Janome sewing machine, and is aimed at already experienced and very creative seamstresses. Its recommended retail price is €1299.
His advantages
As detailed in our review of the Skyline S5 sewing machine from Janome, the sheer number of features is definitely its strongest asset. With 170 programs, 91 needle positions, 10 automatic buttonholes, adjustable stitch width and length, 11 presser feet supplied… the possibilities seem almost endless, including quilting, from airy muslin to leather work thick. The knee lever that allows you to control your machine while keeping your hands free to hold your fabric is a real plus for achieving a perfect level of precision on certain types of work.
Its weak points
Given the very large number of functions, it takes time and experience to successfully master some of them. Unfortunately, the user manual is not always of great help, because it is too brief. Another weak point may lie in the weight of the machine: with its 10 kg, this sewing machine needs to be installed on a solid work table. It is difficult to transport. The seamstress will have every interest in finding a permanent place for it.
Janome Facility 21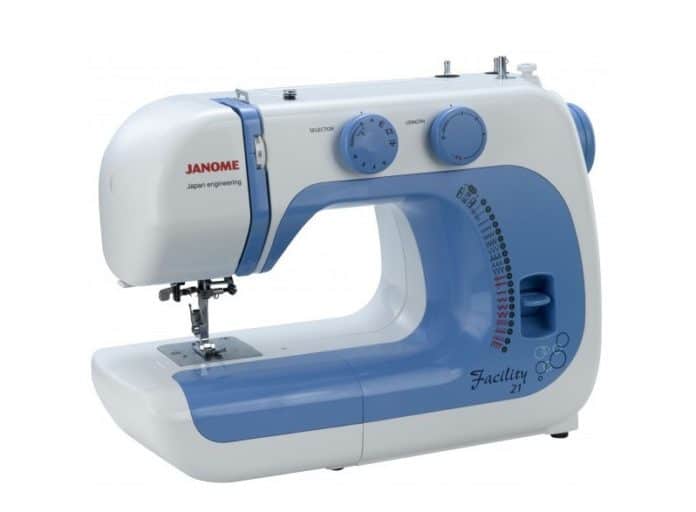 The Janome Facility 21 sewing machine is aptly named. The manufacturer has indeed endeavored to make it particularly intuitive. It allows beginner seamstresses to start machine sewing with ease and speed. Easy to use doesn't mean a machine devoid of features. Janome's Facility 21 mechanical machine has all the useful functions and built-in options. Its selling price is around 235 €.
His advantages
Getting started with the Janome Facility 21 is quick, even when it's your first sewing machine, as we were able to indicate in our test of this model. Adjustments are intuitive, using simple manual dials. The seamstress can also refer to the notice written in French. It has the choice between 21 points, to sew standard or more personalized works. This sewing machine features the Janome signature, with a solid cast aluminum frame and advanced features, such as integrated thread cutters, automatic threading, free-arm, reverse, adjustable height for the presser foot, the twin needle, the work surface lighting, the stitches adjustable in width and length, the automatic buttonhole, the feed dogs…
Its weak points
Accessories are supplied with the Janome Facility 21 sewing machine. However, their number is limited compared to other models. The seamstress will have to plan to invest additionally. The automatic buttonhole is in four steps, where some machines offer it in one step.
Janome Skyline S3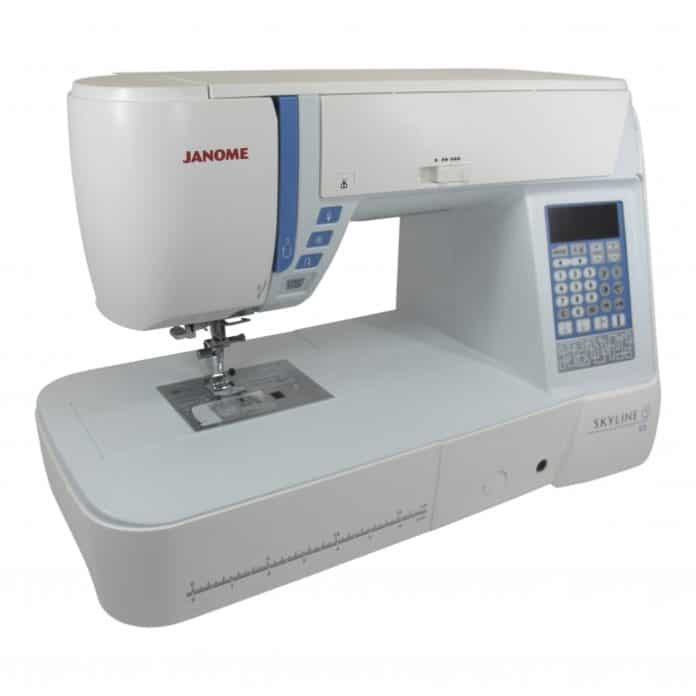 With its Skyline range, Janome is aimed at seamstresses who have their heads full of projects. The Janome Skyline S3 sewing machine allows you to indulge in sewing pleasure, with options providing comfort and freedom of movement, but also with a wide choice of programs. The Skyline S3 electronic sewing machine from Janome is at the recommended price of 1049 €. For more details, we invite you to read our opinion following our test of the Janome Skyline S3.
His advantages
No less than 120 programs are available on the Skyline S3. In addition to the usual stitches, it offers decorative stitches including the alphabet, which appeals to many seamstresses, numbers and symbols, and 7 automatic buttonholes. An extra-wide work surface simplifies sewing large pieces. The free arm provides a good range of motion for the seamstress. Useful functions such as reverse, automatic bobbin winder, thread cutter, adjustable presser foot pressure, the possibility of sewing without the rheostat or the automatic tie-off also make work easier and allow impeccable finishes.
Its weak points
In addition to the instructions in French, the Janome Skyline S3 sewing machine comes with a DVD. It is a pity that it has not been translated into French. The seamstress must also take into account before her purchase that the Skyline S3 sewing machine weighs 10 kg. She must therefore ensure that she has a sufficiently solid and fixed workshop to install her machine. If the quality-price ratio of the Janome Skyline S3 is rather good, the budget necessary to afford it remains substantial.
In conclusion
By equipping herself with a Janome sewing machine, the seamstress opts for reliable and solid equipment. By clearly defining your needs, the Janome sewing machine can be a long-term investment. Its robust metal parts are guaranteed for 5 years and spare parts can be found on the market for up to 10 years. The price-performance ratio of the presented models is positive.