Pfaff: the brand of high-end sewing machines
The performance of the sewing machine depends on the quality and diversity of the works produced. Pfaff has chosen to position itself on the top of the range, by the quality brought to the structure of its sewing machines and by their functionality.
From the simplest model to the most advanced of the brand, all Pfaff sewing machines are equipped with a powerful motor and the exclusive IDT system, for work carried out with ease and an impeccable finish.
Top of the range, Pfaff models are equipped with the latest technologies, without being complex to use, to allow the seamstress to devote herself to all her projects.
The different ranges and prices of Pfaff sewing machines
All types of creations can be made using Pfaff machines: works that are sometimes traditional and common, sometimes original and technical.
For beginner sewers: Pfaff recommends 8 models, in the Smarter, Ambition, Passport, Expression and Select ranges. Prices range from €299 to €1990.
For seamstresses who have an intermediate or experienced level: 6 more technical models are available, in the Ambition, Creative Icon, Expression ranges. The budget to be foreseen varies from 790 € to 10990 €.
Top 5 Best Pfaff Sewing Machine Models

Difficult to choose among all the Pfaff models. All machines have their own characteristics. Different criteria must be taken into account to estimate the value for money of a sewing machine and so that the seamstress can find a model adapted to her expectations and needs. We've put devices through extensive testing and come up with our top 5 best Pfaff sewing machines available


Pfaff 1080s: our favorite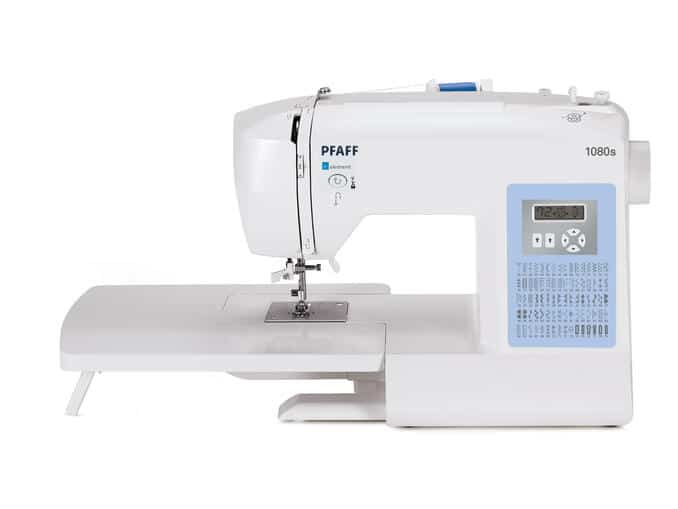 The Pfaff Element 1080s sewing machine is the one that wins our hearts. It is one of the best known of the brand, thanks to its punctual distribution in supermarkets. This Pfaff electronic sewing machine is aimed at seamstresses looking for functional equipment at a low price: less than 150 €. We recommend it from an intermediate sewing level. To find out more about it, do not hesitate to consult our detailed opinion following our test of the Pfaff Element 1080s.
His advantages
The price-performance ratio of the Pfaff Element 1080s sewing machine is to be highlighted. This electronic sewing machine is not more expensive than a mechanical machine but it is much better equipped. It offers 80 different stitches. These are easy to select thanks to the LCD display. In addition to utility stitches and decorative stitches, there is also the automatic one-step buttonhole. The powerful motor ensures a good sewing speed, up to 750 stitches per minute, and the adjustable presser foot height makes it possible to sew all fabric thicknesses. Among the accessories supplied with the Pfaff 1080s, several presser feet and an extension table that enlarges the worktop. The needle threader and the graduated plate are nice little extras.
Its weak points
When the seamstress stops sewing, the needle of the Pfaff 1080s sewing machine defaults to the up position. This can hinder in the event of a subsequent resumption of the work. The bobbin is vertical, while recent models now favor horizontal cans. The Pfaff 1080s machine is rather noisy compared to other models.
Pfaff Passport 2.0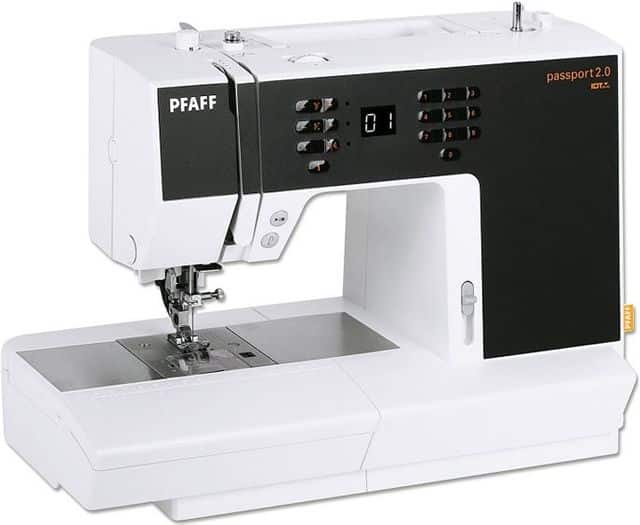 The Pfaff Passport 2.0 is a compact machine designed for on the go. It is ideal for those who wish to take sewing lessons or take their machine to customers or on vacation. It is also perfect for those who have little space to install or store it. However, the Pfaff Passport 2.0 sewing machine does not compromise on quality and functionality. In particular, it is equipped with the exclusive IDT system from Pfaff. Its price is around €500. Discover all its details in our article dedicated to our opinion on the Pfaff Passport 2.0.
His advantages
The Pfaff Passport 2.0 sewing machine is equipped with the IDT system, which is a technology developed by Pfaff and which ensures double feed of the fabric during sewing. The support is guaranteed for a precise and perfectly executed seam, whatever the fabric worked. The double LED lighting and the adjustable sewing speed also contribute to this. This machine offers a wide choice of 70 different stitches and 29 needle positions. Thanks to optional accessories, it is also an evolving sewing machine. Also, the Pfaff Passport 2.0 is a transportable sewing machine. Its small size allows you to take it everywhere with you. It also becomes easy to store your sewing machine, since it fits on a wall shelf.
Its weak points
The Pfaff Passport 2.0 sewing machine does not have an LCD screen. Its black and white look and its right angles give it a sober but raw look.
Pfaff Ambition 1.0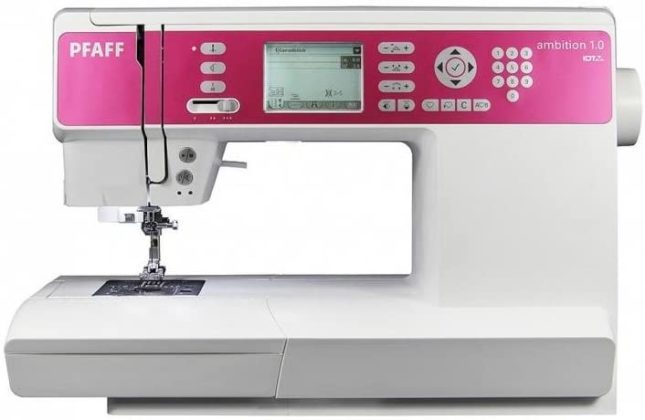 A seamstress can see in a sewing machine the opportunity to carry out a multitude of projects. This is indeed the case with this model as we specify in our test and opinion of the Pfaff Ambition 1.0. This versatile sewing machine can be used to make various works such as making clothes, fashion accessories but also interior linen for the home. It perfectly meets the desires of ambitious seamstresses, allowing them to sew fabrics of different materials and thicknesses. This, for a budget of around 700 €.
His advantages
Pfaff's Ambition 1.0 has a large work surface and all the useful features so that the seamstress is comfortable during her work: LED lighting, high-resolution screen, free arm, sewing with or without pedal, multi- needle positions… It also has a much longer work surface than you find on most other sewing machines. Being a Pfaff, the Ambition 1.0 electronic sewing machine has the IDT system. The Pfaff 1.0 is a sewing machine that also allows embroidery. In particular, it has 136 different stitches, plus basic stitches, decorative stitches, cross stitches, patchwork stitches, hem stitches, buttonholes, but also 2 alphabets, available in 4 different writing fonts.
Its weak points
If the Pfaff Ambition 1.0 sewing machine has everything to please, its selling price, although justified, represents a substantial budget that all seamstresses, however passionate they may be, cannot afford.
Pfaff Passport 3.0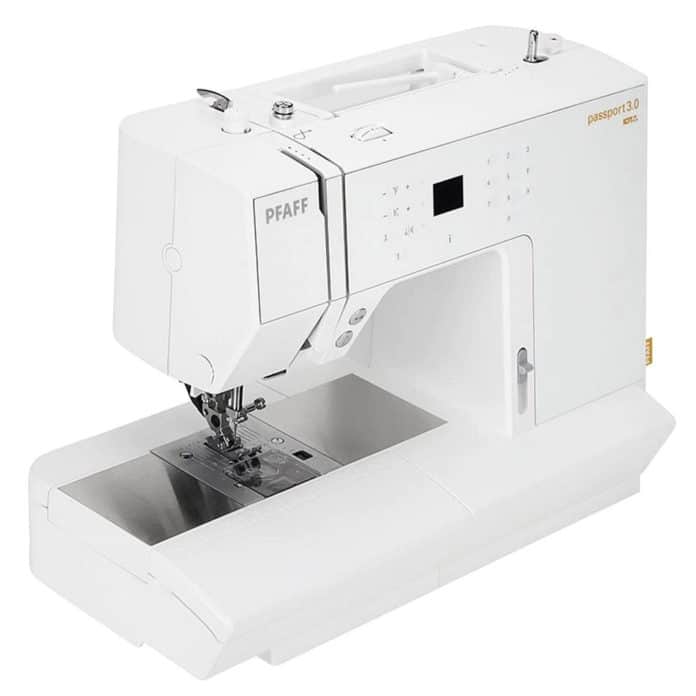 Like its little sister the Passport 2.0, the Pfaff Passport 3.0 sewing machine is a transportable machine. It also comes with a protective cover to ensure its protection during its travels. With this machine, Pfaff concentrates the best of sewing technology in a compact format. The Pfaff Passport 3.0 lets you find inspiration everywhere. It is sold around 600 €. To find out more, discover our detailed review of the Pfaff Passport 3.0.
His advantages
The small size of the Pfaff Passport 3.0 sewing machine is very practical. This machine is perfect for sewers who have a small space. It is installed and stored with a minimum of space. But it is also designed to be taken with you on your travels. She can be taken like hand luggage, to the homes of her clients, to her sewing lessons or on vacation. Especially since this nomadic sewing machine knows how to make itself indispensable thanks to its many functions. With a large choice of 100 stitches, it meets all the needs that may arise in terms of sewing, whether it is darning a textile or letting your creativity run wild.
Its weak points
Investing €600 in a sewing machine is not given to everyone. Apart from a few additional points, there are many similarities with the lower model, the Passport 2.0, for a price difference of 100 € all the same. The LCD screen is rudimentary, and the design simple, with clean lines.
Smarter 160S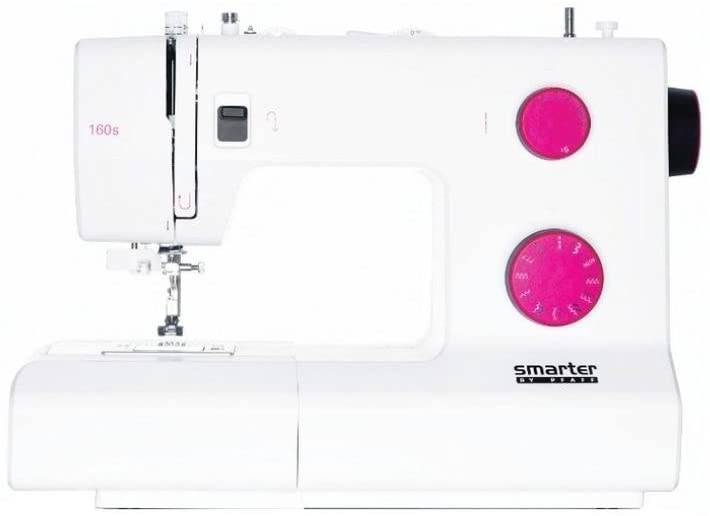 Creativity and originality are character traits that can be attributed to seamstresses. Pfaff offers them a sewing machine in their image with the Smarter 160S. Its sober bonnet at first glance is in fact dynamic and recognizable among all, with very attractive touches of bright pink. And the Pfaff Smarter 160S sewing machine delivers extensive functionality to meet creative needs. Beginners as well as experienced seamstresses can fall in love with the Pfaff Smarter160S.
His advantages
Resolutely modern, the Pfaff Smarter 160S sewing machine is a mechanical model, easy to use. Needle threader, adjustable sewing speed, LED lighting for optimal visibility, automatic buttonhole, reverse gear… the smart features are numerous and valuable. The Pfaff Smarter 160S accompanies sewers of all levels in their projects, however technical they may be. Mending, usual seams or decorative seams, the Smarter 160S sewing machine successfully satisfies all your desires. This, thanks to its 23 points, adjustable in width up to 6 mm. Scalable, many optional accessories can bring even more technicality to the Smarter 160S.
Its weak points
The selling price of the Smarter 160S sewing machine is quite high compared to competing machines of equivalent range. Also, the differences with its little sister, the Smarter 150S are minimal and the price difference between the two models can make you think.
Pfaff Creative 1.5 Sewing and Embroidery Machine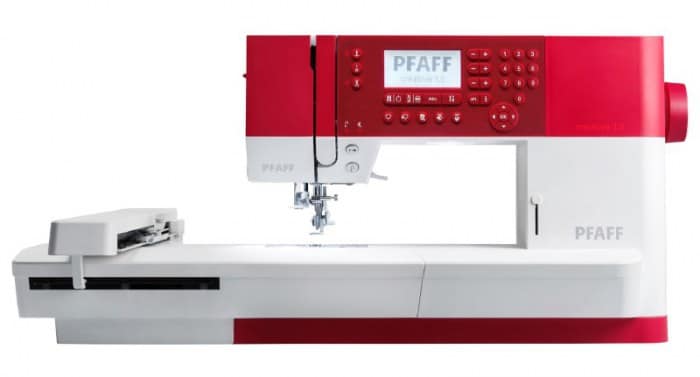 Being able to sew and embroider with the same device, such is the prowess of the Pfaff Creative 1.5 sewing and embroidery machine. Without cutting corners on either of the two functions, it accompanies seamstresses in the making and personalization of their work. All with great style. The Creative 1.5 sewing and embroidery machine from Pfaff has a very pretty passion red color on its cover which, with its large work surface, makes you want to get to work.
His advantages
The Pfaff Creative 1.5 is a very functional machine that saves space in your sewing workshop, to be able to evolve there in the best conditions. With its wide work surface, large projects are as easy to sew and customize as small ones. Like all Pfaff machines, the Creative 1.5 features the exclusive IDT system. Because no concessions have been made by the manufacturer in terms of functionality. Thus, no less than 150 stitches, two alphabets and 100 embroidery patterns are available to the seamstress. She can even rework the patterns to her liking thanks to the included embroidery software. And whether it's embroidering or sewing, the performance of the Pfaff Creative 1.5 gets the job done fast and well.
Its weak points
Such performance comes at a price, which is not affordable to all budgets. However, given the dual function and quality of the machine, the Creative 1.5 retains excellent value for money and remains much cheaper than other models.