At what age can a child use a sewing machine?
A sewing machine is a technical device, which can be complex to use for a child but also dangerous. Their little hands can be prone to injury from the movement of the needle but also from the sewing accessories that come with the machine, such as scissors. The sewing machine is therefore not to be put in all hands.
At a young age, children like to imitate their parents. At this time, they are far too young to use mom or dad's sewing machine. To please them, it will therefore be necessary to turn to toys, in the visuals today resembling to be mistaken for real sewing machines.
However, the passion for sewing can be born in children. From 6-8 years old, toy brands offer sewing machines that children can use alone to make their first stitches and for simple projects. However, these are still toys.
Beyond that, for teenagers and pre-teens, sewing machines for beginners, which are no longer a toy, are offered. They allow you to learn how to machine sew the most common stitches and to make various and finished projects. These children's sewing machines, developed by leading brands in the sector, are easy to use and have been designed in such a way that the risk of injury related to their use is limited or even non-existent.
The criteria in choosing a sewing machine for children
The purchase of a sewing machine for children must be thought out and several criteria must be considered to choose a suitable model. It is about the safety of the user, the ability to use the sewing machine in good conditions and the scalability so that the machine adapts to the needs of the growing child.
The simplicity
Even if the child sews under the supervision of an adult, it is better that he feels independent and that he can use his sewing machine with ease. Otherwise, his interest risks waning, and the sewing machine is likely to be abandoned.
It is therefore preferable to choose a simple model. Sewing machines for children are intuitive and get to the point. Adjustments are made easier, thanks to appropriate visual cues. These are manual elbow machines, whose wheels are adapted to the fine motor skills of children.
Solidity
Children are sometimes abrupt in their gestures. A classic sewing machine can quickly become out of adjustment and fragile parts can be damaged. Also, a children's sewing machine is generally made of solid plastic, which ensures a good longevity while remaining easily transportable by the child and safe.
The various adjustment buttons are designed to be manipulated briskly on many occasions, with a size suitable for children. A safety device completes the equipment, protecting children's hands from injury and limiting access to dangerous and fragile parts, such as the needle for example.
Scalability
Children grow fast, and so does their curiosity. Sewing enthusiasts will see their needs and desires change as they practice. For the investment of the sewing machine to be profitable, it must be scalable.
A beginner's sewing machine that can later be expanded with various accessories, such as a new presser foot or a removable table is ideal. Another useful function can be the variable speed drive. Models for learning to sew can be kept for several years because of their usefulness for the most frequent sewing jobs.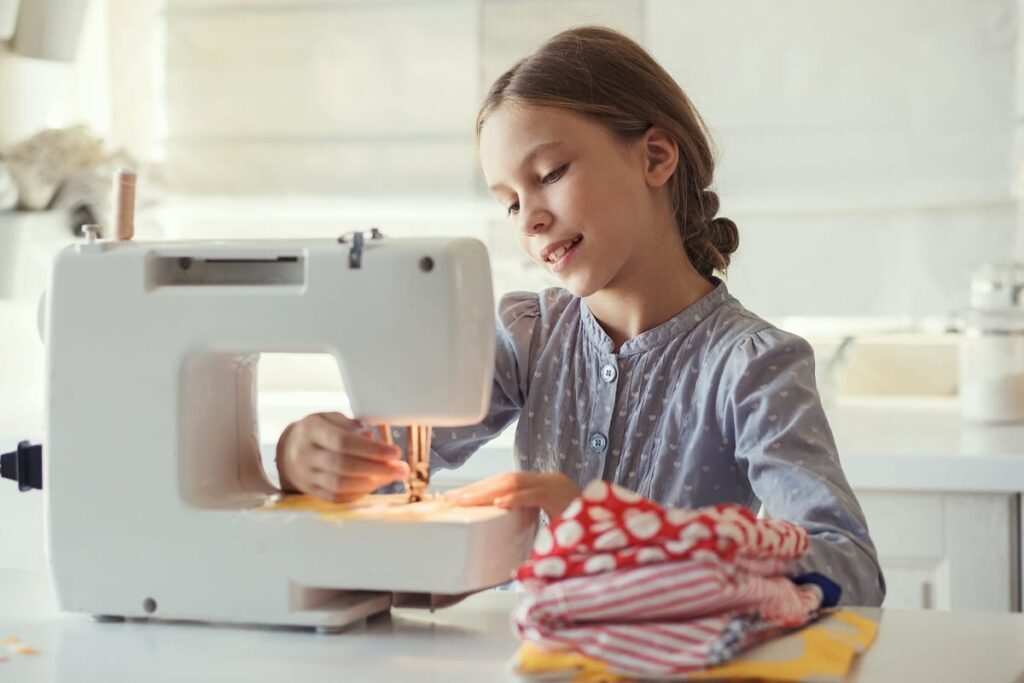 How to accompany him in the use of his machine?
A child who wishes to start making and sewing with a machine must be accompanied by an adult.
First, for security reasons. Upon receipt of his equipment, the child will undoubtedly be eager to handle his sewing machine, but not necessarily the discipline to read the instructions for use. It's about tempering your ardor and doing things in order.
When the child begins to sew young, certain gestures are dangerous and difficult for him. In this case, the adult takes over and then passes control back to the child as soon as he feels ready. It is also a question of ensuring his comfort and working on gaining confidence.
Helping him to perform certain technical acts also contributes to providing him with good comfort of use. Showing him how to set up the machine for his project helps him gain skill and be able to sew quickly.
The child must also be reassured if the result obtained does not correspond to his expectations. Knowing how to sew requires patience and perseverance. Congratulating him on his attempts and accomplishments will stimulate him.
You can also help him find fabric, new patterns and read them. And why not to draw his own creations if he is of a rather creative nature.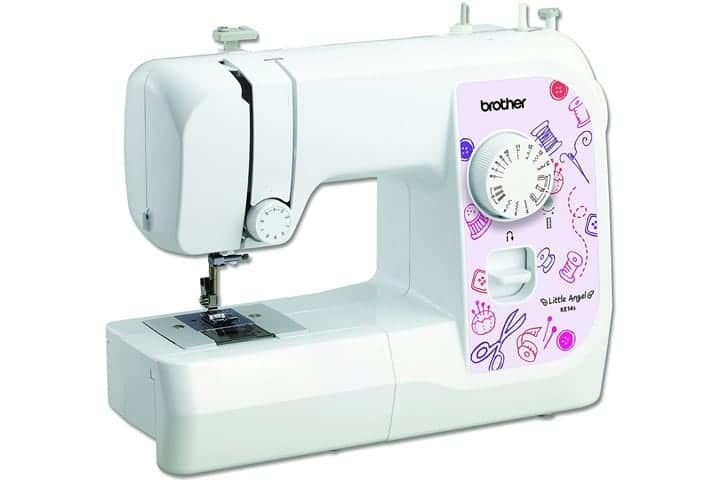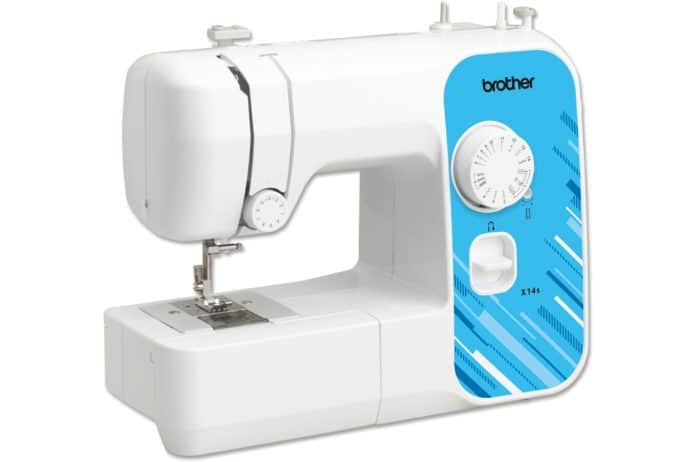 Brother KE14S "Little Angel": our favorite
A child's enthusiasm for this manual art of sewing and his eagerness to let his creativity express itself should not jeopardize his safety. If adult supervision is always required, the material used for sewing also plays a very big role in this safety issue. A very experienced operator in the sewing sector, Brother has managed, with its KE14S Little Angel sewing machine, to find the right balance to allow the child to sew with maximum autonomy and in maximum safety.
His advantages
A finger guard is located directly next to the presser foot of the Brother KE14S. It prevents the child's fingers from coming into contact with the needle during sewing. This is an effective way to prevent the main risk associated with the use of a sewing machine. This option does not affect the performance of the Brother KE14S in any way. The progress of the fabric remains fluid thanks to the 6 feed dogs. The stitches are adjustable in width and length. Several patterns are allowed thanks to the 14 preset programs, including buttonhole laying. Maximum safety also depends on the fluidity of the child's movements, ensured by the free arm function, and by optimal visibility, thanks to the LED lighting. The instructional DVD also helps to master the operation of the Brother KE14S sewing machine. The sewing machine remains pleasant to use and has a very nice visual.
Its weak points
If the emphasis has been placed on security, a black point in this area is still noted. Indeed, the Brother KE14S is not equipped with an on/off button. It is therefore likely to trip as soon as the power is turned on. You must therefore be particularly careful not to touch the rheostat inadvertently.
Brother X14s: an ideal choice
Another Brother reference is an excellent sewing machine for children: the X14s. This machine is scalable: it offers the essential basic stitches, but also invisible stitches, hems, buttonholes.
As soon as it is taken in hand, it allows you to carry out basic works with precision but also, after a few uses, projects that a young child will consider to be more technical. It is therefore a machine that can be considered in the short and medium term. Marketed for less than 150 €, it is a good investment. Thanks to the initiation DVD, getting started becomes child's play, as we detail in our opinion on the Brother X14s.
His advantages
The Brother X14s is interesting for a young child because it responds to their curiosity. Thanks to its two-position adjustable presser foot, it is indeed able to sew several types of fabric, including stretch and denim, and the child can therefore carry out many projects. Light and compact, it finds its place on a child's desk or can be stored easily in a bedroom.
Its weak points
With 14 preset points, the child who is overflowing with creativity may still find himself limited. If the double height proposed for the presser foot leaves a good latitude to choose its fabric, the engine of the Brother X14 is not the most powerful. Also, sewing thick layers can be difficult. The sewing may lack precision and the sewing machine, with its 6 kg, may be subject to jerks.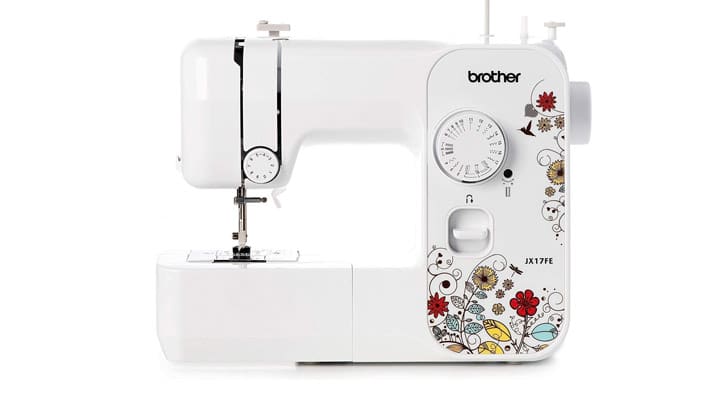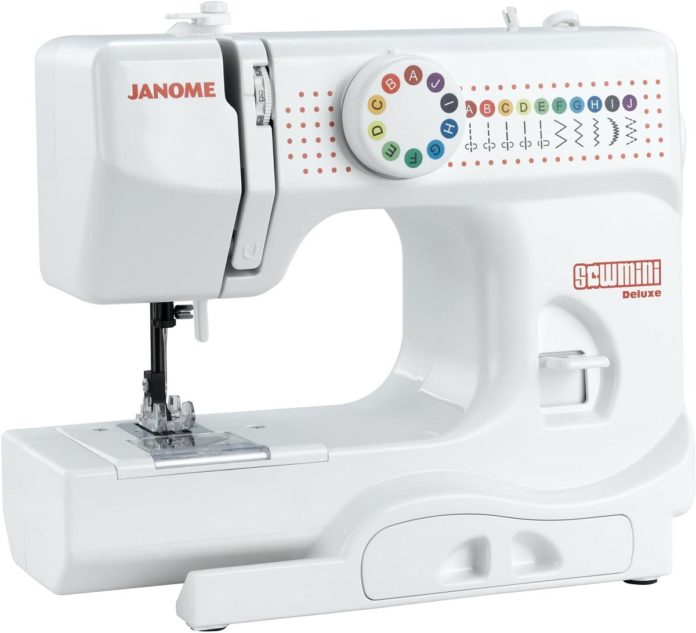 Brother JX17FE "Fantasy Edition"
With the Brother JX17FE sewing machine, children find a sewing machine that's just right for them. This electronic sewing machine for beginner sewers is easy enough to handle for a child to use and functional enough to respond to their creativity. Because children are overflowing with imagination and do not put the brakes on themselves; they therefore need a sewing machine capable of following them in their projects. This is the case of the Brother JX17FE, sold for around €150.
His advantages
The child can sew many projects with the Brother JX17FE, even on thick fabrics such as jeans which are very popular with the youngest. He can give free rein to his imagination and use the 17 preset points as he wishes. Because the child who is passionate about sewing is often meticulous and perfectionist, the reverse function allows him to set beautiful, very solid stopping points. Thanks to the 6 rows of claws, the fabric is held in place and does not fear the eager handling of small hands. Its compact size is suitable for the size of a child and its handle makes it easy to move, so you can always sew under adult supervision. The manual can be consulted on a dedicated application, which also offers tutorials.
Its weak points
The machine does not come with a paper user manual. It is therefore mandatory to be able to download the application and to be able to refer to it frequently during the getting started phase. The lack of automatic threading can be annoying for a child, who will have to use all his fine motor skills and patience to pass the thread through the eye of the needle.
En savoir plus sur ce texte sourceVous devez indiquer le texte source pour obtenir des informations supplémentaires
Janome Sew Mini Deluxe
The Janome Sew Mini Deluxe is a sewing machine designed for children. It is visually very attractive, because it is very colorful. Indeed, on this sewing machine for children, the different stitches are associated with the letters of the alphabet and with colors. These are notions known from an early age, and which allow the child to quickly know how to use a sewing machine. The Janome Sew Mini Deluxe is a learning machine for very young children, which is limited to basic and simple works. The Janome Sew Mini Deluxe children's sewing machine is offered at around 100 €.
His advantages
It is a machine designed for very young children, but which therefore cannot be described as a toy. The design full of pep's of the Sew Mini Deluxe makes you want to use it. With 10 different and very easy to select stitches, children discover the basics of machine sewing and can proudly design their first creations. The size of the machine and the control commands are adapted to the size of children. The presser foot is transparent, to provide good visibility and to be safer for the hands.
Its weak points
The Sew Mini Deluxe offers only one sewing speed. Each child progressing at their own pace, it would have been nice to be able to modulate according to their ease with the machine. It is also a shame not to have integrated worktop lighting, which is also a guarantee of safety. The Janome Sew Mini Deluxe sewing machine is less equipped than some of its competitors. The child will therefore be able to feel the need to change the model of sewing machine more quickly.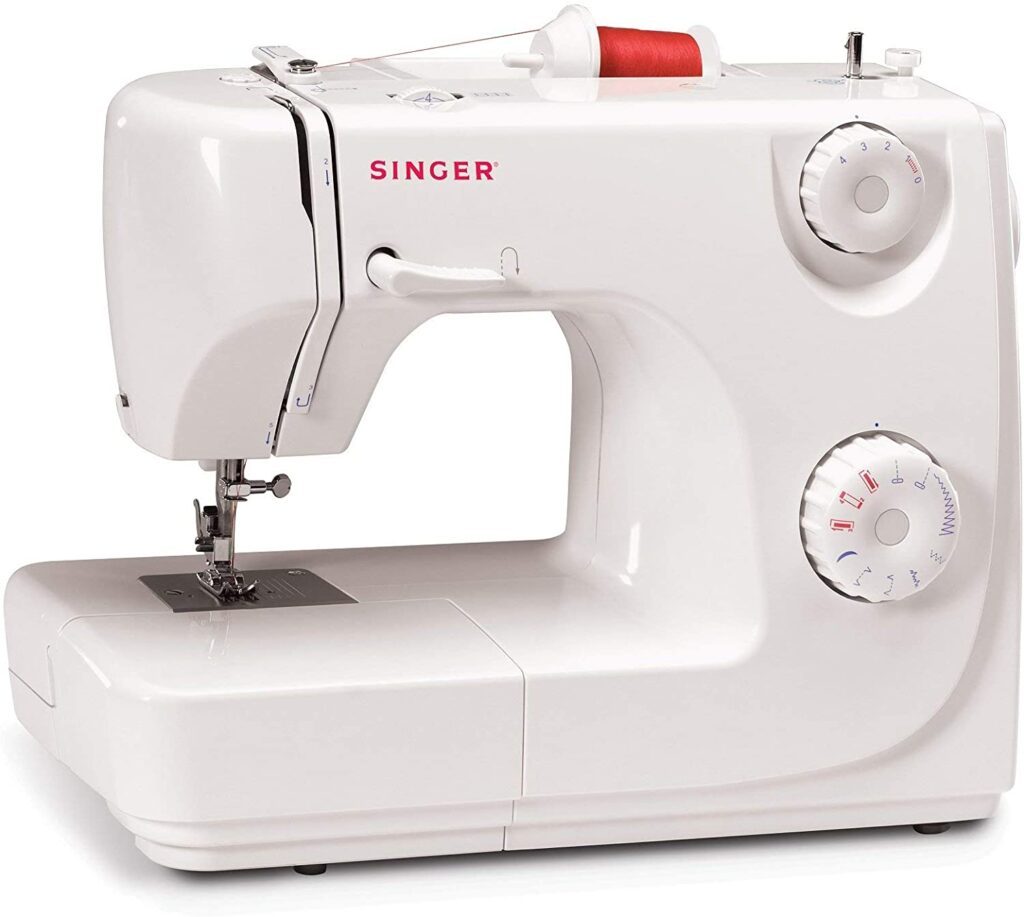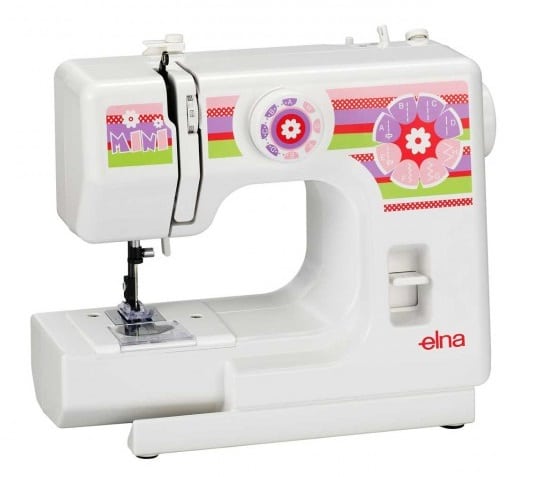 Singer 8280 Sewing Machine
Children who develop a real motivation for sewing very early on can turn to the Singer 8280 sewing machine. With its small size and its simple and basic functions, this model of the flagship of sewing is aimed at beginners, but can do everything totally suitable for a child. The robust materials in which it is designed support sometimes approximate and hesitant handling. Presenting a very good quality-price ratio, the Singer 8280 is a perfect elbow machine to offer to a child.
His advantages
The Singer 8280 has everything of a great and will seduce budding seamstresses, proud to use a real great machine. Because anyone interested in sewing, even at a young age, cannot ignore the recognition that the Singer brand enjoys. The Singer 8280 sewing machine is an entry-level machine that lives up to the brand's reputation, with a design similar to that of its big sisters. The essential features for beginners and acquiring great autonomy in sewing are brought together as we detail in our article dedicated to the Singer 8280. Like its threading system guided by arrows which makes it child's play. The accessories supplied with the sewing machine allow it to evolve at the child's pace. She therefore accompanies him on a long-term basis in his creative projects.
Its weak points
The instructions for the Singer 8280 are not detailed. If a child must always sew under the supervision of an adult, the accompaniment will be crucial with this machine, to explain, to show the manipulations etc.
Elna Mini
For the youngest sewing enthusiasts who cannot be satisfied with a toy, the Elna Mini sewing machine can be a solution for making their first projects. This reference is ideal as a first sewing machine. Compact but colorful, it catches the eye. Little sewers can do like grown-ups and sew 8 different stitches, in complete safety. Its price is around 100 €.
His advantages
If Elna has unquestionably bet on the look of her Mini sewing machine, the functionality has not been forgotten. The selection of stitches is done using a wheel. The points are classified by color and a letter is assigned to each of them. This makes it easier for the child to adjust. On the Elna Mini, there is also the free arm, the adjustment of the width of the stitches, a vertical spool holder. The sewing speed is 350 stitches per minute. This remains safe, as the presser foot has a built-in finger guard, essential for young children.
Its weak points
The Elna Mini sewing machine does not have a light. It's a shame because it would help the child to sew in more optimal conditions and would allow the adult accompanying the child in his achievements to better follow the progress of the sewing. Designed for very young children, it is to be reserved for simple works, made on fine fabrics. Thicknesses cannot be worked with this device. This sewing machine has few stitches. Children will be happy with it, but some may quickly have other ambitions and will then have to change sewing machines.