Create a faux-layered look with a detachable collar that will add style to any top. Choose a delicate openwork design, such as butterflies, for a chic feminine look.
MATERIALS
+ 3/8 yard of mediumweight woven cotton fabric
+ 10˝x13˝ rectangle of lightweight fusible interfacing
+ Cut-away stabilizer
+ Thread: all-purpose & embroidery
+ Removable fabric marker
+ Hand sewing needle
+ Hook & eye
+ Butterfly design (approximately 3½˝x3¾˝)
+ Collar pattern


PREPARE
• Download the collar pattern from
cmemag.com/freebies until Feb. 29,
2016. Cut out the pattern.
• Trace the collar template onto the
woven cotton fabric using a removable
fabric marker. Designate as the
upper collar.
• Print a placement template for the
chosen embroidery design. Draw
the horizontal and vertical centerlines
on each template.

• Position the upper collar right side
up on a flat work surface. Center the
design template over the right-collar
center front as desired. Mark the
design center and horizontal and
vertical centerlines at the template
perimeter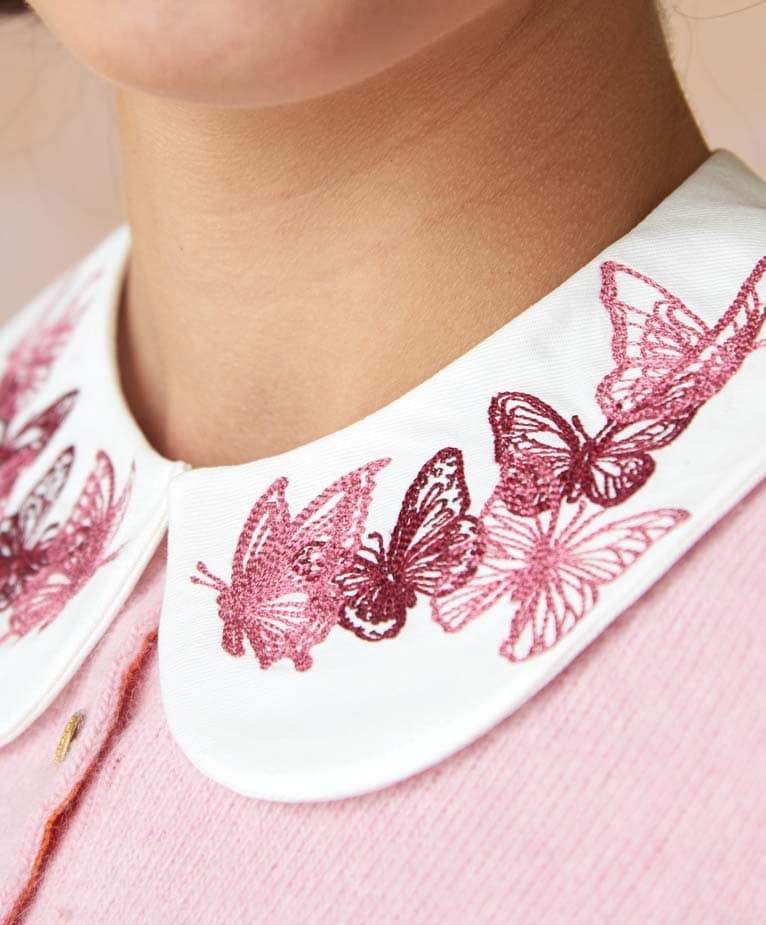 EMBROIDER
• Hoop the upper collar and a piece of cut-away stabilizer, centering the
design markings within the hoop.
• Load the butterfly design onto
the machine. Thread the machine needle and bobbin with embroidery
thread. Embroider the design, changing thread colors as desired.
• Remove the hoop from the machine and the fabric from the hoop. Carefully
remove the excess stabilizer from the design just beyond the stitches.
• Repeat to position and embroider
the design, mirroring the design on the left-collar center front.
CONSTRUCT
Use ¼" seam allowances unless otherwise noted.
• Cut out the upper collar along the pattern markings.
• From the remaining fabric, cut one collar. Designate as the undercollar.
From the fusible interfacing, cut one collar.
• Adhere the interfacing collar to the undercollar wrong side, following
the manufacturer's instructions.
• With right sides together, stitch the upper and lower collar perimeter,
leaving a 4"-long opening along the collar center-back edge.
• Clip the corners and trim the seam allowance to a scant 1/8". Turn the
collar right side out through the opening. Gently push the corners
out if necessary, and then press flat.
• Slipstitch the collar opening closed.
• Position the hook on the undercollar left upper corner; hand stitch. Repeat
to stitch the eye on the undercollar right upper corner . If desired,
omit the hook and eye and secure the collar closed with a brooch.