PROPERTIES
Satin is a smooth, shiny fabric that's weaved using a repeated pattern of floating one warp fiber over four or more weft fibers, and then weaving the warp fiber under
one weft fiber. This weaving method produces a fabric that drapes beautifully and has a smooth surface that reflects light.
TYPES
Satin is available in a variety of types, including brocade, charmeuse, antique, slipper, duchesse, peau de soie, velvet, faconne, sateen and more. Some satin types have
specific uses, such as antique, which is used to construct drapes, and charmeuse, which is used to make lingerie.
Satin is often used to make formalwear, neckties, ribbon, sheets, pillowcases  sportswear and more.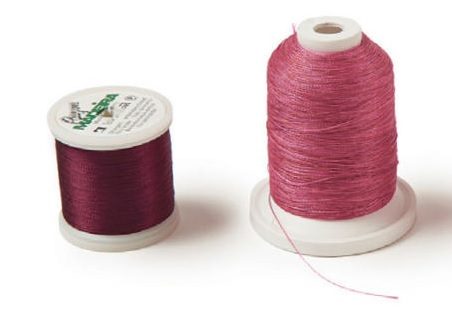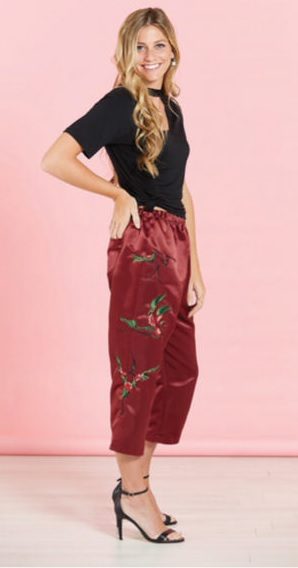 WORKING WITH SATIN
Satin can be a difficult fabric to stitch, as it can mar easily and look unattractive
if not cut or stitched properly. Use the following expert tips to successfully stitch satin.
• Satin fibers easily snag, so clean the workspace of any debris.
• Pins produce unsightly holes in satin, so pin within seam allowances only.
• Use sharp cutting tools when cutting satin, as dull or damaged blades can shred the fabric.
• Use a straight stitch throat plate to prevent the fabric from being pulled into the throat plate hole. Install a straight stitch foot and stitch slowly to prevent slippage.
• Cut pattern pieces in the same direction so the pieces look uniform when reflected by light.
• Dim the machine surface light to decrease fabric glare and improve visibility when sewing.
• Use French seams for lightweight satin varieties and overcast seams for medium to heavyweight satin varieties.
The upper design was stitched at a slower machine speed, using a sharp 70/10 needle,
fusible sheer interfacing and mesh cut-away stabilizer .
The design is evenly stitched and doesn't have puckers.
The lower design was stitched at full machine speed, using a 90/14 needle and mesh cutaway stabilizer . The design stitched unevenly and has puckers.

HOW NOT TO EMBROIDER SATIN

CARE
Check the fiber content of the chosen satin variety because it can be woven from natural or synthetic fibers, which have different care requirements.
Machine-wash polyester and cotton varieties; hand-wash silk varieties in cold water; and dry-clean acetate/ rayon varieties.
The intended use of the finished project dictates the care requirements.
For instance, if lingerie is made from polyester satin, but it's overly delicate, hand-wash instead of machine-wash to avoid marring the fabric. Don't twist or wring out water after handwashing. If pressing is necessary, use a cool, dry iron. Press from the wrong
side using a press cloth. Don't use steam because water can stain the fabric.

THREAD
Use all-purpose thread when working with most satin varieties. When working with delicate varieties, use fine cotton or silk thread to prevent puckering.
Loosen the upper thread tension on the machine and set the machine to stitch 10 to 15 stitches per inch to prevent marring the fabric.
NEEDLES
Choose the smallest size needle that will accommodate the fabric. Sharp 70/11 and 75/11 embroidery needles work well with most satin types. Use a 60/8 needle to finish seams, if desired. Test-stitch the chosen needle on scrap fabric to make sure the fabric and
needle combination is satisfactory.
STABILIZER
Fuse a piece of sheer interfacing to the fabric wrong side before embroidery to give the fabric extra support.
Hoop the fabric with a piece of lightweight cut-away or mesh cut-away stabilizer. Once the embroidery is complete, remove the interfacing and stabilizer, following the manufacturer's instructions. Test-stitch on a fabric scrap to make sure the fabric, design and stabilizer work well collectively.
DESIGNS
Use less dense designs with plenty of open areas when working with lightweight satin varieties. Use dense fill stitched designs for heavyweight satin varieties. Needle penetrations
can cause holes in the fabric, so omit unnecessary jump stitches