Understanding Needle Box Information

If you order your needles on the Internet or go to a non-specialist store without anyone being able to advise you, it is essential to understand the information on the box. The data displayed on the packaging of sewing needles indeed meets a standard to simplify their understanding. Here, in order, is the information presented:
The type of needle that indicates its shape to pierce the fabric, pass between tight stitches or thread through a stretchy fabric without damaging it.
The size of the needle which indicates the thickness of the needle. It is directly related to the thickness of fabric that will be possible to sew.
The system to which they correspond.
The different types of needle

Each type of needle will have a defined length, thickness and tip shape. Let's start our explanation with a lexical point, by defining the use that can be made of each type of needle:
The universal needle: This is in principle the needle supplied with your sewing machine. Of medium thickness, it has a slightly rounded tip and can, as its name suggests, sew almost all types of fabric of medium thickness.
The jeans needle: It will be used, unsurprisingly, to sew jeans. Thanks to its reinforced upper, it will easily withstand this type of thick, tightly woven fabric. Its tip easily pierces joints and thick edges without risk of breakage or missed stitches.
The microtex needle: This is a fine needle that will be used for works on fragile fabrics such as silk or microfiber. This type of needle is, for example, used in the manufacture of fine lingerie in the textile industry. It allows a straight seam, without damaging the assembled materials. Its thinness cannot be adapted to thick fabrics, with a high risk of breakage.
The leather needle: If the jeans needle is pointed, the one dedicated to leather is sharp. This particularity allows it to pierce a small whole in materials in which it is not possible to slip between the stitches. The use of this needle is indicated for leather, imitation leather or suede.
The stretch needle: It has a rather round head, designed to slip between the stitches without breaking them. It is particularly recommended for sewing stretch fabrics.
The jersey needle: It is comparable to a type of stretch needle for its ability to sew stretch fabrics without damaging them. It is specifically designed to sew the materials used in the manufacture of classic t-shirts.
The twin needle: It is used in the production of decorative stitches or double-line when the sewing machine allows it.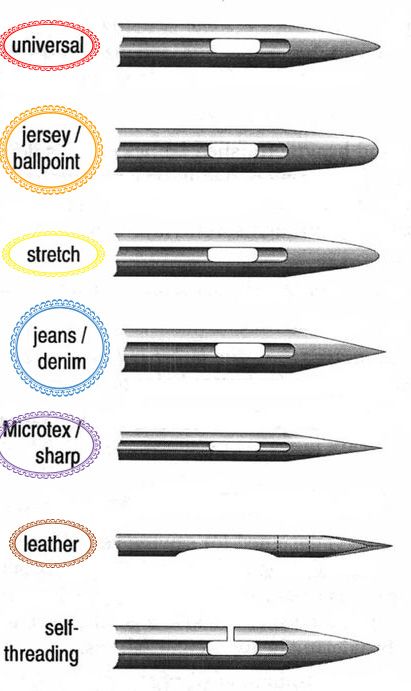 We couldn't write an article about sewing needles without discussing self-threading. This unclassified category refers to needles whose eye is not closed and has a small opening to easily slide the thread. This "magic option" can be present on almost all types of needles and will delight impatient people and people with sight problems.
Choos
ing the size of your sewing machine needle
The needle sizes indicated on the boxes vary from 60 to 110. This measurement expresses the diameter of the needle in hundredths of a millimetre. It is possible that in the same box and for the same type of needle, it is available in several diameters. Logically, the thicker ones will be suitable for thick fabrics, and the thinner ones for the thinnest fabrics.
Here are some examples with frequently used fabrics:
Denim, jeans or canvas: jeans needle in 16/100
Linen, silk or satin: universal needle in 11/80
Chiffon, organza or veil: universal needle in 9/70


How to choose a quality needle

As you will have understood, in the event of needle breakage or a problem in the realization of your work, the quality of the needle is not always in question. It will indeed be necessary to take care to choose the right category of needle for your sewing machine.
As we repeat in many of our articles, the nearest haberdashery is often a favorite place to equip yourself. You will find there an informed staff, who will be able to guide you in the choice of your needles. We sometimes embark on projects that require combining two types of fabric. The advice of a pro is therefore welcome to know which type of needle will allow you to go through the entire thickness of the fabrics, without damaging them.
How often to change your sewing machine needles

How often to change your needles depends on the quality of your needles, whether they are used in the correct holders and how often they are used. Our advice at Bouillon de Couture is to systematically buy your new needles twice. This allows you to change it without waiting in case of breakage. This trick also allows you to have a new needle under the elbow to compare the level of wear of the tip of your needle.
After reading this article, the choice of needles for your sewing machine should no longer have any secrets for you. If you have always sewn with the needles supplied with your machine, on all types of fabric, you will be surprised. Sewing with adapted needles can, in fact, radically change your sewing comfort, when you use specific fabrics.
Choosing the right needles also means taking care of your sewing machine. The motors can, for example, be forced to force more than necessary if you start sewing a thick fabric without a needle sharp enough to go through the layers.
Our team wishes you to find the full range of needles that will meet your needs. Just like the colors of thread, the types of needles are a real palette of possibilities to follow your imagination through all your most creative projects!