Do you want to invest in a sewing machine, but can't decide? We invite you to discover the Brother Innov'is 15 (equivalent to the Innov'is A16) and the Juki HZL-353zr. This will allow you to fully understand their respective advantages and disadvantages and to decide which one to choose according to your different criteria. It can be based on your level of sewing, depending on your goals or simply as a result of the comparison between the two sewing machines.
Electronic or mechanical sewing machine?
These two sewing machines already stand out on this point. Indeed, while the Juki is mechanical, the Brother is electronic. Here are the main differences between these two types of machine:
Both machines are accessible at exactly the same price of €314, so this will not be a criterion of choice. It may also seem more difficult to handle, since all the settings must be made manually. This type of machine is recommended for beginners, because it allows you to understand the general operation of a sewing machine.
The electronic sewing machine is distinguished by its ease of use. It has many features and is generally quite intuitive.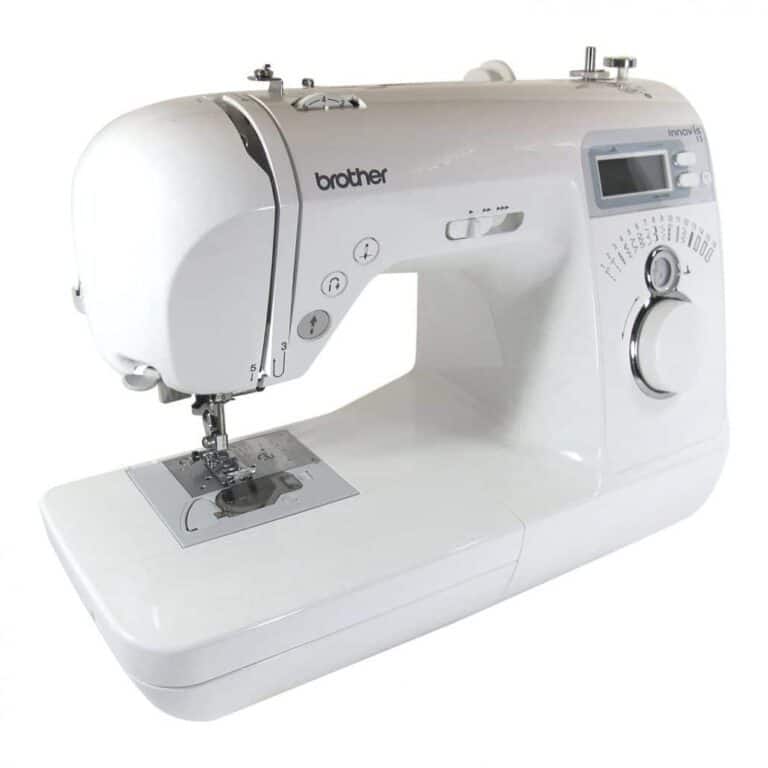 First of all, we invite you to discover the Innov'is 15 sewing machine from the famous Brother brand, which offers machines with a good price/quality ratio.
Presentation
It is therefore an electronic sewing machine model.
It offers 16 different stitches, as well as 3 styles of buttonholes made completely automatically and with a reinforcement stitch in the middle.
With its aluminum frame and LCD screen, it has the typical design of Brother sewing machines.
It is possible to adjust the stitch in length, in width, but also the thread tension.
It is designed to simplify your task thanks to its speed regulator, the automatic needle threader, but also the simplified installation of the bobbin.
Advantages and disadvantages

The Brother Innov'is 15 is a sewing machine that seduces its users not only with its design, but also with its features.
It is a beautiful device with quality components.
Its LCD screen makes it easy to use.
It is a fairly intuitive sewing machine with which you can progress, since you will have no trouble mastering the different features.
High sewing speed of 850 rpm
Nevertheless :
The Innovis 15 is 7.4 kg against 7.1 kg for the 353zr, it is not high enough for it to be a determining criterion.
If you want to sew very thick layers (several layers of leather for example), the power of the machine may show its limits, even if this type of seam is rare, it must be taken into account.
No hard cover for transport.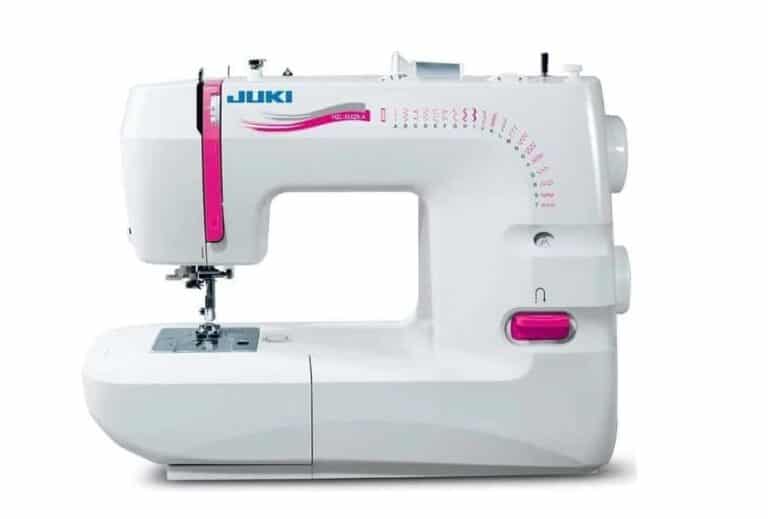 Here again, we invite you to discover a sewing machine with a great reputation, because Juki has been able to position itself as a creator of innovations. To take advantage of the know-how of this Japanese company which not only offers industrial sewing machines, but also family machines, we are going to give you more information on the Juki HZL-353zr.
Presentation
This is a family and mechanical sewing machine.
It provides 21 stitches, a rotating flat hook and allows the automatic production of buttonholes.
It is equipped with an aluminum frame and an ABS protective cover.
Its retractable claws allow you to indulge in the practice of quilting.
The training is done thanks to 7 rows of claws.
You also have the double presser foot lift for heavier fabrics.
Advantages and disadvantages

This is a very complete mechanical sewing machine.
We appreciate its ease of use, which makes it ideal for beginners, but not only thanks to its many features.
Its use is effectively simplified thanks to the free arm for sewing trouser bottoms, for example, but also thanks to automatic threading.
Stitch length and width are adjustable.
We appreciate that it comes with a rigid case, while many machines have a simple soft cover to protect them between uses.
It is a powerful sewing machine that has the bare necessities.
Nevertheless :
Its power is really amazing in reality, capable of sewing several layers of any type without worry.
Sewing speed limited to 750 rpm
Which machine according to its level in sewing?

Depending on your level of sewing, you can opt for one or the other. It will depend on your brand preferences, but especially if you want a mechanical or electronic sewing machine. Following the sewing craze of recent years, it remains very important to think about its expectations and objectives. .
Nevertheless, to start well, it is recommended to favor a mechanical model like the Juki HZL-353zr. For more experienced seamstresses, the model offered by Juki is also a good choice since it allows a wider range of decorative stitches, however its competitor has more styles of buttonholes.
Fans of electronic machines, for their part, will prefer the model offered by Brother.
The model to choose according to the objectives and scalability

The Juki HZL-353zr sewing machine is a sewing machine that not only allows you to start, but also to progress. Indeed, the different functionalities allow, as it is taken in hand, to be able to do more and more things. In addition, you can experiment with quilting. It involves sewing wadding between two layers of fabric to obtain padding. You will also have the possibility of making decorative stitches to bring a touch of originality to your creations.
Enough to discover the pleasures of sewing, but if you prefer to own an electronic sewing machine, you will not be disappointed by the Brother Innov'is 15 which will also offer you many possibilities, see more with its 3 styles of buttonholes.
Which sewing machine to choose between these two models?

Between these two models, you will understand, it is not easy to choose. It will mainly depend on your affinity with one or the other brand, but also if you prefer an electronic or mechanical sewing machine.
They are both in the same price range and can suit different seamstress profiles. They are also two brands with a great reputation that offer reliable and quality sewing machines.
The Juki allows you to take advantage of more decorative stitches and greater power, but it will be slower and you will not have the 3 different styles of buttonholes.