Free use of SewWhat-Pro for 30 days
Almost every embroidery software gives you the opportunity to try it out before buying. Some big players give you time to use the software to explore (many) features, but not save your work.
The best thing about SWP is that they offer a fully functional 30-day trial version capable of saving 60 designs, each with up to 3 color stops. So you know what you're getting before you buy. I recommend that you download the trial version to see if it fits your requirements before deciding to buy.
What is SewWhat Pro for?
SewWhat-Pro is essentially a customizer and editor for embroidery files.
You can import embroidery designs created by others and customize them to suit your needs. This means taking stitch density into account when sizing, splitting embroidery designs, adding borders, and even adding text using .ttf fonts installed on your computer. Cool, right?
However, SewWhat-Pro is not digital embroidery software, which means you cannot import .jpg or .png images and convert them into embroidery designs. For this, you need additional software. Digitizing is harder to learn than editing ready-made embroidery files.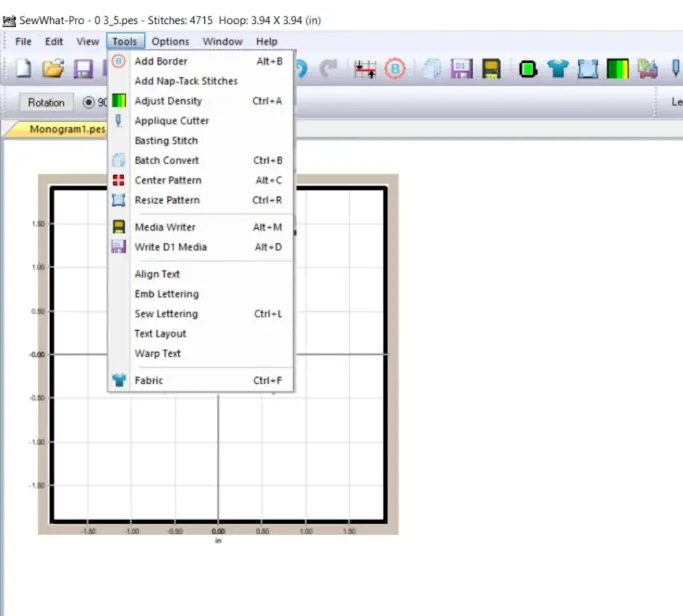 SewWhat Pro interface introduction
Overall, the user interface is very clean and not too cluttered. Clicking the Edit, Tools, and Options tabs at the top will clearly reveal most of the editing functions. The icons you see at the top of the program mostly duplicate the functions under the tabs. So if you don't know what these mean, don't worry!
You'll also see a frame on the left side of the screen to place your design. The right area contains information about the theme you imported. You can change the appearance of your SewWhat-Pro installation on the View tab.
SewWhat-Pro Tutorial + SewWhat-Pro Feature Review
Let us explain in detail what this program does and show you how to use it.
file conversion
First, SWP can convert one embroidery file format (eg .pes) to another (eg .jef).
This is useful if you have purchased a Brother embroidery machine design that you want to use on your Janome embroidery machine. You can use the tools section to convert individual files or do this in batches.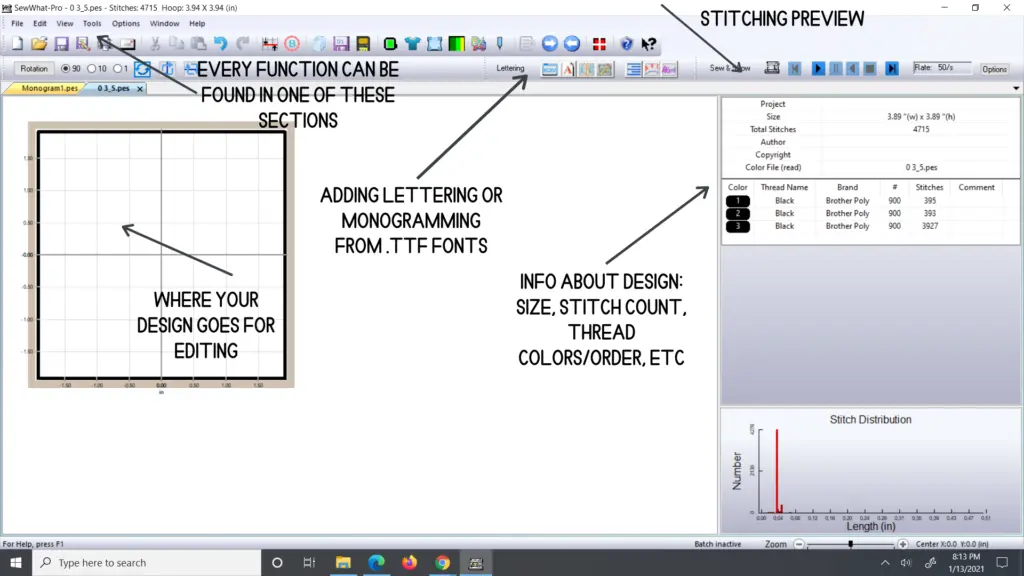 Edit imported designs
Once you've imported designs that you've purchased or digitized in other software, you're ready to start editing. When you click the Edit tab, you'll see several editing options. Here's what you can do:
Change the thread stitching order of the design.
Change the thread color. You can choose from many popular embroidery thread tables, switch thread colors, and preview designs before embroidering.
Join all the threads of one color together to sew at the same time. This includes adjacent lines of the same color, all lines of the same color, or lines of the same color starting at a point in the line list.
Split design! For me, a must-have in an embroidery routine. Since my max frame size is 5″x7″, I can only use my 5″x12″ down frame with the large design that has been split.
Filter or delete threads below a certain color or length. (You can't undo this, so be careful!)
Merge one or more of your loaded designs (this is actually on the "Files" tab). The same applies to print preview templates to align your design with the embroidery blank.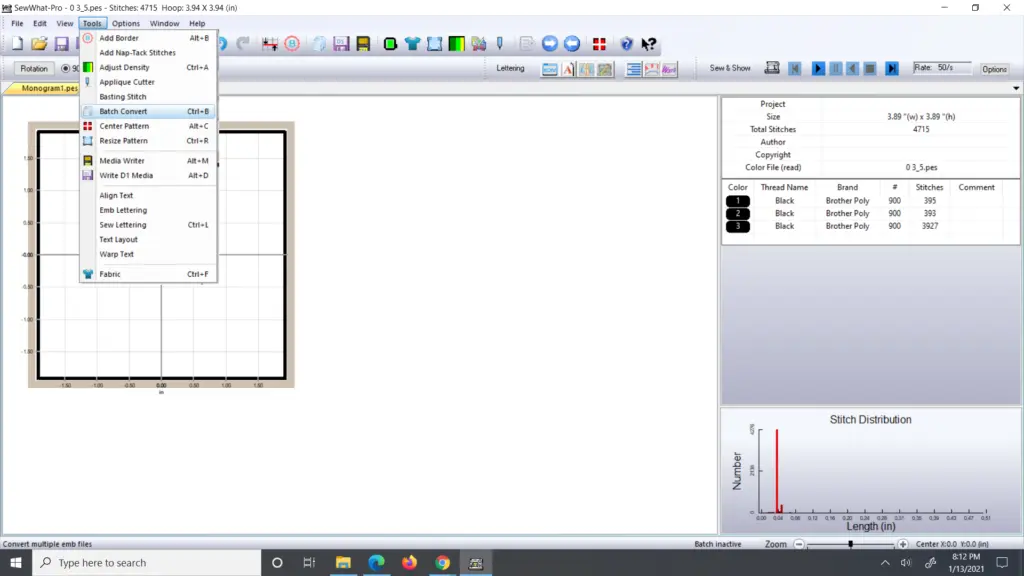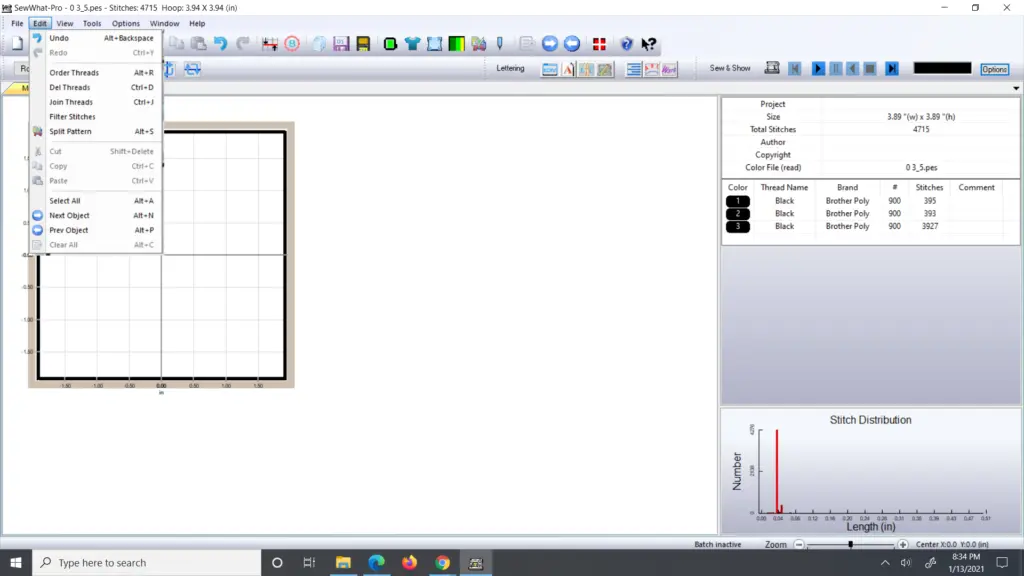 Tools to Customize Embroidery Designs
Add a ton of borders to the edges of your designs,

including stippling and other quilting designs. You can also add a border to make a design into a patch! How cool, right?

You are also able to cut appliques from designs made.
Add nap-tack stitches

, known as knockdown stitches in Embrilliance, which are stitches that go underneath parts of the design to tack down nap on fabrics. These are great when

embroidering towels

and blankets, for instance, and are made very simply by this program. In my Hatch embroidery software, creating a Hatch smash stitch is much more difficult, although there are more customization options. 

Change stitch density

to make designs work better for thicker or thinner fabrics.

Add a basting stitch

, also known as a basting box, to stitch before an embroidery design. (Learn how to add one with SewWhat-Pro in my

basting box tutorial

.) This will help hold slippery or stretchy fabrics in place during active embroidering. It is great when you are

floating fabric in your hoop

, but you'll need to be careful what fabrics you use it on.

Resizing a pattern while keeping stitch density constant. Taking a 2″ wide 1000-stitch design and making it into a 3″ wide 1000-stitch design is not ideal, for instance. You will want to rescale with constant stitch density and length in mind. There is a limit to resizing and still producing good results, however.
Select a fabric texture and color

to give you a realistic view of how your design will look stitched out on your project. This will turn the hoop graphic into the color and texture of your fabric.
Adding Text in SewWhat-Pro
Working with text is my favorite part of SewWhat-Pro! It enables you to convert built-in computer fonts to embroidery fonts and use purchased embroidery fonts.
Digitizing .ttf computer fonts is accidental, but if you're not a professional embroiderer, it's a cool feature that saves time and money. I love adding names to designs to personalize things like embroidered items. In particular, here are some of the things SewWhat-Pro can do:
Add letters or monograms using fonts on your computer. There's even some monogram alignment and framing! While this feature works better on some fonts than others, you can add or remove underlying stitches and adjust stitch density and stitch angle for more control over the final product. (Read more: How to make monograms with SewWhat-Pro.)
Add lettering using the font used as the embroidery file.
Wrap text around curves and perform various other decorative functions.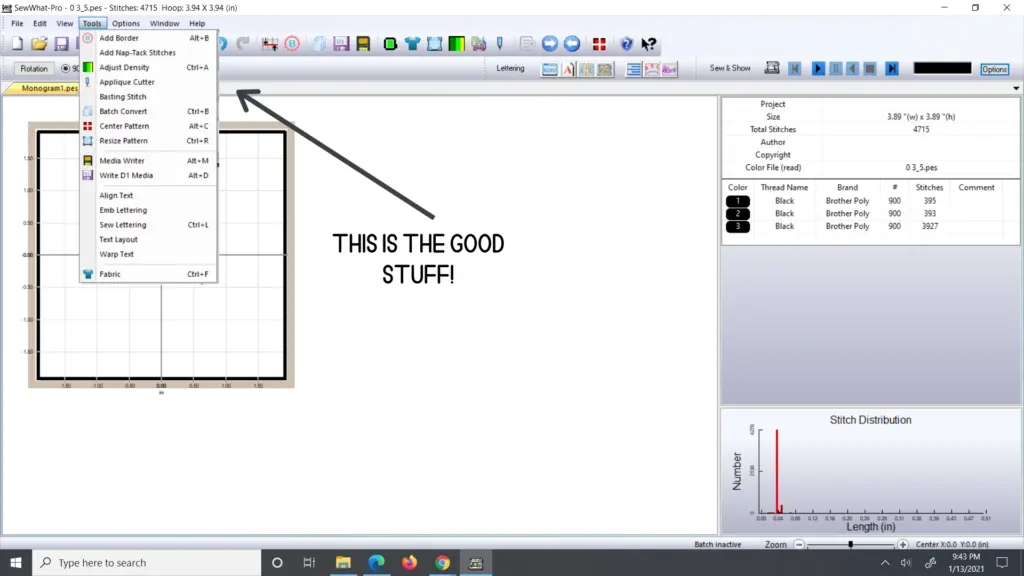 Previewing Before Stitching
Have you ever downloaded an embroidery design and wondered what the stitching order was and how exactly all those threads were going to come together to form the final design? 
If so, you can preview the stitching of the design by clicking "Sew and Show" on the top right of the screen. If you have your volume up on your computer, prepared to be frightened by the sudden sound! Luckily, if you click under options near the preview, you can turn that sound off.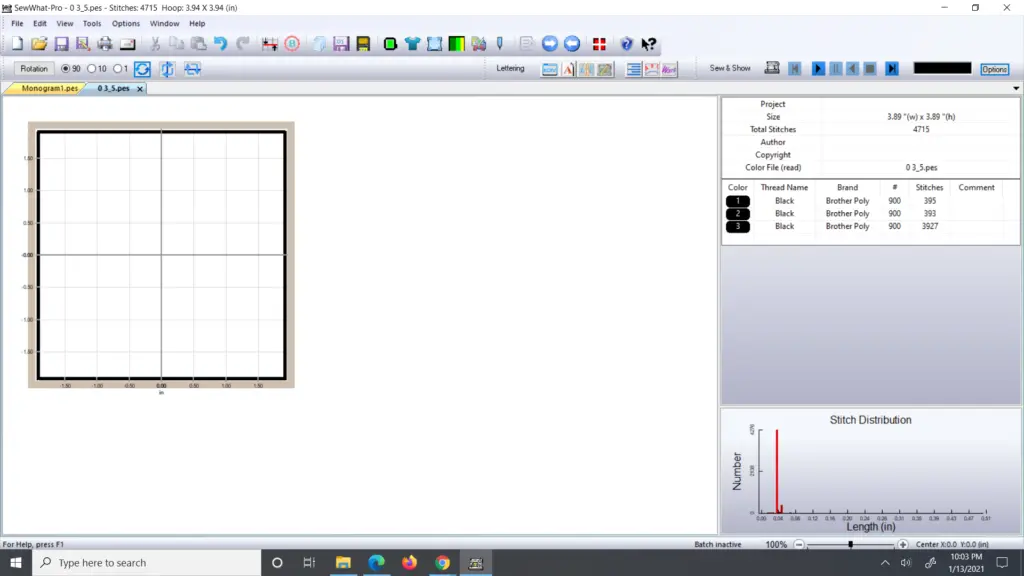 Can you digitize with SewWhat-Pro?
Just to reiterate, no, SewWhat-Pro is not a digitizing program. You can only import embroidery machine files and no .jpg, .png, or .svg files to digitize.
If you are needing to auto-digitize, consider SewArt, also made by the same company. Embrilliance Stitch Artist, Hatch, and Embird are three options for more robust digitizing software that allow for manual design creation. While manual digitizing is the "best" way to create designs, it does have a VERY steep learning curve for users who aren't graphics savvy.